Benefit from the basics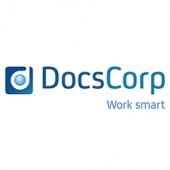 Sweating the small stuff is an undervalued discipline in the legal industry. You should re-invest in tools that focus fully on the efficiency of the legal work itself, says Samantha Jefferies, VP, EMEA, at DocsCorp.
What is the point of being an early adopter of AI and blockchain if your existing systems aren't delivering to
their full potential? Lawyers and support staff still need tools that help them to do their job efficiently, so firms should help to bring the focus back to the tasks that land on desks every day of the week, and with tried-and-tested strategies. Spreading some efficiency on top of your bread and butter of legal work can save time, reduce risk, and increase productivity. Look for strategies that enhance – and don't interfere with
– the natural course of work.
What is to sweat the small stuff?
Sweating the small stuff is a counter-proverb to the traditional 'don't sweat the small stuff'. It's meant to remind us to focus on the small picture if we want the bigger picture to succeed.
Sweating the small stuff is a reminder that there's a reason why some tools have been around for a long 0time. These products are valuable, but they could be undervalued by the organisation. Sweating the small stuff means asking 'could I be doing this workflow or using this product smarter?' Often, the answer is yes.
Sweating the small stuff also reminds CIOs that innovation isn't just found in AI and blockchain. There's also innovation in improving the traditional software applications that lawyers and support staff rely on every day. You just have to recognise the opportunities for improvement.
Small-scale focus, large-scale benefits
Unsure if you've been sweating the small stuff? Consider the last 12 months, and where the majority of the firm's technology budget was spent. If the firm added new products, it's possible that existing solutions aren't getting the attention they deserve because the focus is on something shiny and new. Before adding more technology, consider whether the current provider has added more features and functionality that could help fit your brief? Has the firm kept up to date with the latest product versions? Could more time and money be
invested in staff training, so the end user is getting the most out of the technology? Has the product kept up with developments in other vital systems like Windows 10 or your document management system (DMS)? If integration, maintenance and support have fallen behind, it's likely that your ROI has dropped off too.
Crucial integrations and workflows
How much time could DMS and Microsoft Office integration save you? How about one less pop-up window in Outlook? Could you cut back on the time you spend manually reviewing, editing, or compiling documents?
Invest time and effort in improving everyday workflows – like bundling pdfs to create electronic binders, or comparing document versions for changes – and reap the benefits time and time again. Shaving hours off a process like bundling pdfs won't just pay off once: it pays every time an electronic binder is created to finalise a transaction.
When Swedish firm Delphi updated to a pdf solution that automated the creation of electronic binders, it recouped the cost after the very first binder, as what previously took hours now only took minutes. Head of IT Henrik Järnberg saw an instant improvement in the firm's workflows, saying: "To use a farming analogy, we have moved from ploughing the land with a horse to ploughing it with a tractor. Creating electronic binders is now a routine task at the firm, not a massive undertaking."
Compare and contrast
Other firms find efficiency by looking more closely at the features in their document comparison solution. Switching from traditional redline reports to working from a live document marked up with Track Changes can make the review process 25% faster. An application that compares files in their native formats – without conversion to pdf – spares staff the pain of having to fix broken formatting.
Improving document comparison saved a significant amount of time each day at Pierce Atwood. Director of IT at the firm Lee Cullivan recognised its old comparison application wasn't adding value because users found it too slow and complicated. The result of finding one with a better user experience? "We saved 15 to 30 minutes a day. With 100 to 150 people using the application daily, that's a significant saving," he says.
How much time do lawyers and support staff spend looking for non-discoverable documents in a DMS? It's a big waste of resources for most firms, as up to 30% of records can be non-searchable.Having a system that searches and applies optical character recognition (OCR) to all repositories – not just the DMS – can reduce how long it takes staff to find a file. Staff at Australian firm Makinson d'Apice were losing too much time trawling through file systems to find critical information. "It was difficult for people to find documents in the
system," said IT and knowledge manager Asitha Udumalagala. "Most of the time they had to go into the actual matter folders and their document worklist history, and scroll through hundreds of documents to find what they wanted." Not only are staff now more efficient, the firm is better equipped to be compliant with freedom of information requests and e-disclosure.
Don't get swept up in AI and blockchain when there's so much efficiency to be gained from the tools legal professionals already use to get the job done. Bring the focus back to the most basic tasks and add some efficiency every day.
This article featured in the November 2018 issue of Briefing Magazine: Leadership shapes.