A patently obvious success: IP law specialists use speech recognition technology from BigHand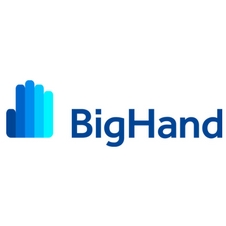 Page White and Farrer extends its digital dictation capabilities using BigHand Legal – increasing productivity and efficiency
One of Europe's leading patent and trade mark attorneys has strengthened its digital dictation solution with the introduction of BigHand Speech Recognition technology.
Page White and Farrer chose BigHand, the global provider of digital dictation technologies for the legal profession, to provide Speech Recognition functionality to its 27-strong team of Fee Earners.
The move further extends the company's long-standing relationship with BigHand and is already empowering Fee Earners to improve productivity and efficiency in the fast-paced and competitive IP law environment.
London-based Page White and Farrer, which represents multinational and independent clients on all aspects of intellectual property law, have worked with BigHand since 2004. But as IP has become an increasingly global challenge, the company has recognised the need to ensure its technology infrastructure is aligned for growth – and to support its workforce with tools that go beyond the simple migration from analogue to digital technology.
"IP has become a global issue as national boundaries are transcended by new technology, so an international – and indeed an agile – approach is now vital for us," says Nick Wright, IT Manager, Page White and Farrer. "The company has always performed large amounts of dictation. Our 2004 move from an analogue to a digital solution certainly delivered major efficiency benefits for the business; it minimised the ongoing costs of tape-based systems, reduced the risks of misplacing dictations and increased secretarial productivity. But although our teams were working efficiently, we knew that we could still improve the turnaround time of getting dictations back to Fee Earners. This was our main motivation in exploring Speech Recognition. We wanted to provide Fee Earners with an additional productivity tool that was more efficient than self-typing."
Growing Recognition
The new functionality, which followed a previous upgrade to BigHand's mobility suite, has been rolled out across all of Page White and Farrer's Fee Earners – and it's yielding significant operational gains. "It's definitely saving the business time – but it's also improving workflow and freeing up resources," says Nick Wright. "Despite initial concerns from some of our administrative staff, the introduction of Speech Recognition has not led to us replacing secretaries with technology – it has in fact freed up their time and empowered them to get involved in more interesting work. As a result, we are optimising their time and their skills; some are beginning to play an important role in the different aspects of the patent process, well beyond simple typing. In the process, the system has really improved workflow and the management of resources – and eliminated frustration amongst Fee Earners as they await their dictations coming through. Their historical impatience has dissipated, as they are now confident that work will reach them in good time."
Evidence indicates that dictation processes are around 20% quicker using BigHand's Speech Recognition solution – without compromising the accuracy of traditional methodologies. "We've been very impressed with the accuracy and quality of the tool's performance – and also the training processes that have supported it," says Nick Wright. "It's been a painless process. The implementation was handled very well - and the additional training and support, including the online user portal, has been highly responsive and incredibly useful."
Future Integration
Beyond the introduction of Speech Recognition, Page White and Farrer plans to explore how BigHand's solution can integrate with other parts of the company's systems, to drive further improvements and operational efficiencies. "In the future, we anticipate looking at how Speech Recognition can work with our patent/case management and eDoc systems. We want to reduce the number of front-end systems our staff are using, look at ways of integrating the systems – and identify the areas where Speech Recognition can simplify processes and make them more efficient for the end user," says Nick Wright. "This isn't about thrusting functionality onto people – but about supporting them where they need it and making them more efficient. And BigHand's Speech Recognition technology certainly does that."