Leading UK healthcare law firm – Hempsons - joins wave of UK and European law firms switching to DocsCorp for enterprise desktop productivity tools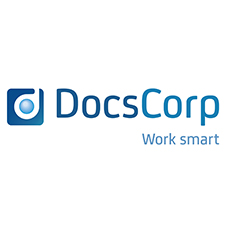 Hempsons is the latest in a string of firms that have recently replaced Workshare products with DocsCorp solutions.
DocsCorp, a leading provider of enterprise productivity solutions, today announced that leading UK healthcare law firm, Hempsons has replaced incumbent Workshare products with the DocsCorp productivity suite: compareDocs for document comparison, cleanDocs for metadata management and email recipient checking as well as adding pdfDocs for PDF creation and editing. Hempsons is part of a wave of UK and European firms choosing DocsCorp. Recently this has included leading personal injury law firm, CFG Law, and 65% of the top 20 firms on the European 100 report.
Anna Lawton, IT Director at Hempsons, said stability and performance issues were driving factors in looking for an alternative to Workshare. "We were experiencing delays with metadata cleaning since the Workshare add-in was causing Outlook to freeze." Workshare was also creating integration problems in Outlook and the firm's case management system. "I decided to run a pilot with a cross-section of users across the Hempsons offices, so they could see how DocsCorp worked in comparison to Workshare," Anna continued. "Users reported that the DocsCorp solutions were easy to use and resolved the stability issues in Outlook. Since deploying the DocsCorp suite firmwide we have had no reported issues and a significant reduction in the number of incidents involving Outlook crashing – it has been a resounding success."
"Our goal has always been to help our clients boost productivity and we are delighted to welcome Hempsons on board as a customer." said Samantha Jefferies, DocsCorp VP of Sales EMEA. "We are looking forward to partnering with more and more UK and European-based firms to help them improve their business basics."