BigHand delivers a significant productivity increase over legacy dictation systems for Walker Smith Way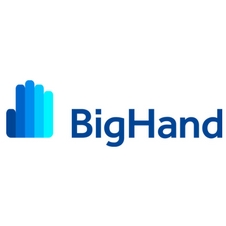 BigHand, the market leading voice productivity software vendor in the global legal and professional services sector, has today announced that Top-250 ranked law firm Walker Smith Way has replaced a combination of legacy dictation systems with centralised BigHand voice productivity technology to increase fee earners' productivity and improve efficiency.
Walker Smith Way has also deployed BigHand's dictation App for BlackBerry, enabling anytime, anywhere submission of dictation or instructions to support staff. Fee earners are no longer required to carry multiple devices to dictate on-the-move; the firm has subsequently cut the cost of purchasing and maintaining portable dictation handsets.
Stuart Taylor, IT Manager at Walker Smith Way, cited the benefit of a ''centralised, future proof and resilient digital dictation workflow platform'' as the key driver in the firm's implementation of BigHand.
Taylor continued: "Prior to BigHand we were managing a mix of three different dictation systems which led offices to work independently. The systems were aging significantly; we needed more functionality from the technology and consistent service from a single provider. We therefore chose to replace all three systems with the BigHand voice productivity platform.''
Mobile strategy and the extent to which firms support personal devices is high on the agenda for many IT and practice management professionals. Whether deploying a fleet of devices or supporting a myriad of smartphones and tablets, investment to ensure fee earners are equipped with the tools to increase productivity is essential if firms are to prosper through increased competition and the threat of a further economic slowdown.
Gareth Humphreys, Managing Partner at Walker Smith Way commented: "BigHand for BlackBerry is, without doubt, an incredibly important tool in our armoury. The ability to record dictations from any location and instantly send them into the office represents a significant opportunity for us to increase productivity, improve our efficiency and deliver an even better service to our customers.''
Stuart Taylor explained: "Mobility was a significant driver for us: dictation via BlackBerry has improved the speed of our document production and therefore the level of service we deliver to our clients. Transparency of work has increased team working, ensuring that urgent work is expedited. We have also implemented BigHand Analytics for HR to monitor workloads, analyse trends and ensure that the right people are available at the right time to get work out the door as quickly as possible.
We are delighted with the results of our implementation – the service and support we have received from BigHand has been absolutely first-class.''
BigHand was named 'Best Customer Service' at the legal industry KnowList Awards 2012, as voted for by professionals across the legal community.