3E Continues Dominance of Global Legal Practice Management market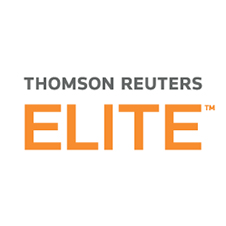 Solution from Thomson Reuters Elite Confirms Market Leadership with Cloud Availability
Thomson Reuters Elite, part of the Legal business of Thomson Reuters, today announced its continued expansion across the global legal industry over the past year, with more than 275 firms having chosen 3E® as their end-to-end solution for all practice management needs.
In December 2018 alone, 14 firms selected this powerful financial business management solution. 3E offers unmatched scalability and customization, allowing firms of any size to adapt to the changing needs of clients and the overall legal market. A record number of firms have now gone live on 3E, with go-lives projected to accelerate in 2019.
The strong finish to 2018 further extends the leadership position of Thomson Reuters Elite as the global leader in standard-setting business management solutions for the legal market. More specifically, 93% of Global 100 firms and 89% of Am Law 200 firms own at least one product of the 3E Enterprise Business Management Solution.
In 2018, Elite launched 3E in the Cloud, which offers an Elite-managed cloud environment using the Microsoft® Azure® platform, the industry standard for both innovation and security. In June this year, Gordon, Arata, Montgomery, Barnett, McCollam, Duplantis & Eagan, LLC became the first firm to go live on 3E in the Cloud, taking advantage of the lower infrastructure costs and less ongoing maintenance when compared with an on-premises solution.
"3E forms a key part of the ongoing evolution of Thomson Reuters to more clearly focus on bringing together data, analytics, and insights to drive lawyer and law firm decision-making," said Elisabet Hardy, vice president, financial & practice management solutions at Thomson Reuters. "The widespread global adoption of our solutions has continued apace in 2018, no doubt in part due to the innovation that sits at the heart of everything we do."
3E from Thomson Reuters Elite offers an end-to-end enterprise business management solution that allows law firms and professional services organizations to run all operational aspects of their business. Designed from the ground up on Microsoft .NET, 3E offers built-in application development capabilities. Why does it matter? The unique architecture enables firms to become more agile, lawyers to quickly respond to client needs, and staff to easily track and manage activity on any scale—from single-office to multi-office and multinational. 3E is the next-generation technology that can help firms improve efficiency, increase profitability, and confidently take on a future without limitations. For more information, visit 3E.