Ten10 roundtable: Testing document management systems in the legal sector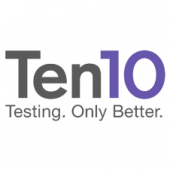 For the majority of law firms, their DMS will likely be tightly integrated with other applications. These could be New Business Intake systems, ethical walls and confidentiality managers, or simply the Microsoft office suite with many plugins. How should you plan and structure the testing for the initial implementation and data migration? Will the structure and scope need to change to manage longer-term BAU testing?
In this roundtable we will discuss the different types of testing that need to be considered for DMS including; functional, integration, performance, migration, security and compatibility. Furthermore, we will discuss if and where firms should be looking to automate the testing for their DMS.
Places are limited and reserved for practitioners in the legal sector, please register to secure your seat.
---
Hosted by Ten10's dedicated legal sector team, the roundtables bring together those responsible for the test strategy and implementation at a number of leading law firms. The peer-to-peer sessions facilitate knowledge sharing and discussion of common challenges for the legal sector. By drawing on the experience round the table, practical solutions are talked through, providing attendees with actionable takeaways that can be reviewed and adopted.
The roundtables are typically targeted at senior decision makers, responsible for the strategy and implementation of successful software testing. Attendees to date include; Chief Technology Officer, Global Head of IT Controls, Head of Business Systems, Head of Software Engineering, QA Manager, Application and Development Manager, Global Quality and Analysis Manager and Testing Manager from Magic Circle, Silver Circle and Top 50 UK Law Firms.
For more information about Ten10, please visit our website at www.ten10.com/industries/legal/