Seminar: Quality engineering - the future of testing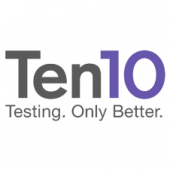 The phrase "Quality Engineering" (QE) is becoming commonplace in the software testing and quality assurance (QA) world. Whilst debates over the relationship and differences between software testing and QA are well established, QE brings a new angle and a further evolution in practices around full lifecycle quality.
This seminar will discuss the concept of quality engineering, what this next "evolution" of software testing actually means and how organisations are implementing quality engineering approaches.
We are also delighted to be joined by Rob Munford, Senior Vice President at Goldman Sachs, who will be telling us first-hand how they have managed their quality engineering journey.
Following the seminar we would like to invite you to join us for an open discussion with drinks and a BBQ to welcome in the summer.
What to expect
Agenda
6:00pm - Arrivals and welcome drinks
6:30pm - Welcome & Introductions
6:35pm - Software Testing, Quality Assurance and Now Quality Engineering - What the @$%#?
Chris Thompson, Client Services Director at Ten10
6:55pm - Case Study: Quality Engineering at Marcus by Goldman Sachs
Rob Munford, Senior Vice President, Goldman Sachs
7:15pm - Foundations of Quality Engineering: What Does Good Look Like and What Can We Learn from Other Industries? Ash Gawthorp, Solutions Director, Ten10
7:45pm - Open discussion with drinks and summer BBQ