NetDocuments webinar: Can technology truly enable lawyers to get to work remotely?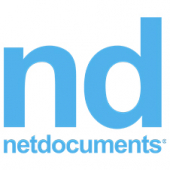 The demand for home working has been on the increase for some time and in the legal sector – a profession known for its long hours at a desk, working late into the night, and dealing with clients' most private of matters – there has been the desire to make it work.
However, whether it be culturally, practically, or just from a technological adoption perspective, there has always been a reticence in the law community to engage remote working practices more widely. Join us online to explore how NetDocuments, the cloud-based document management system, has enabled private client specialist Legalmatters to transition to remote working through 'zero-touch' implementation and support, at a time when it is needed most.
A panel of legal experts will discuss how firms can be sure they have the right tools for its lawyers to work safely from home. Panelists include:
Kayli Olson, editor at LPM
Martin Langan, chairman, solicitor and innovation director at Legalmatters
Paul Hoffbrand, director at Hoffbrand Consulting
Guy Phillips, vice president international at NetDocuments