ndElevate 2018 – NetDocuments' annual legal technology summit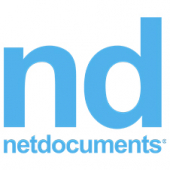 NetDocuments is excited to announce its annual summit, ndElevate 2018 taking place in London.
NetDocuments Customers, Partners and guests can look forward to a day of training, networking, presentations and more!
Join us at ndElevate EMEA to learn the latest in legal technology trends and how NetDocuments' trusted cloud platform continues to deliver leading solutions that help our customers to achieve greater levels of security, compliance and usability through continued product innovation. There is no charge to attend this event. Attendees will include executives and administrators from the NetDocuments customer community along with leading certified partners from the NetDocuments partner network and other legal technology professionals.
Additional Information/Speakers
Kanaloa after party
Sponsored by Tikit
Join ndElevate EMEA attendees at the Kanaloa Tiki bar at 7:00 PM for an exclusive after-party hosted by Tikit. There will be entertainment, appetisers, drinks and plenty of fun to carry through the night.