Legal Workflow: How much unnecessary risk is your law firm exposed to?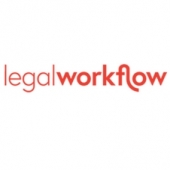 Video length: 2mins 59secs
You have a practice and case management system in place, right?
But how do you enforce compliance with your firm's protocols or flag any potential areas of non-compliance?
For instance, it may be that your Public Indemnity insurance states that the maximum value of a transaction should not exceed a set amount. If a transaction or series of transactions will exceed that amount, your firm's lawyers should escalate that to the insurance company to ensure the transactions are covered. Failure to do so would leave your firm at risk.
If you were called on to demonstrate whether your firm's lawyers stay within this maximum value, could you do it and how easy would that be?
Watch this short video to see how Legal Workflow has mitigated such risk for several independent law firms by customising their existing practice and case management systems.
Legal Workflow is a pioneering IT consultancy and creator of innovative products and services for the legal profession in the UK. Utilising automation and artificial intelligence, Legal Workflow is expert in developing and customising workflows and online legal services for legal case management and practice management systems. We specialise in writing integrations with third party applications, client portals and databases.
A unique combination of experience, knowledge and talent at Legal Workflow brings together commercial acumen with the imaginative application of technology, to provide our clients with modern, streamlined and cost-efficient systems, all while delivering a far superior user experience for both clients and staff.