Stratia Cyber: Is your business protected from a cyber attack?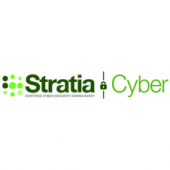 Cybercrime is at an all-time high and is highly likely to continue to grow. Attacks have been prevalent across all sectors from Healthcare to recent attacks on the Olympic and Paralympic Games by the Russian Military Intelligence. Recently revamped guidance for Small and Medium Enterprises recently published by the National Cyber Security Centre (NCSC), warned that,
"If you're a small or medium-sized enterprise then there's around a 1 in 2 chance that you will experience a cyber security breach"
This could come in the form of ransomware, data breaches and weaknesses in the supply chain. Emerging threats include theft from cloud storage, which the NCSC argues too many businesses put their faith in.
Stratia Cyber are industry leaders in assisting businesses to eradicate those threats. Our clients include the MOD, BBC, Ministry of Justice, EON and a host of other businesses where security of the information they keep is tantamount.
Certified by the NCSC, we offer risk assessment and management, security architecture, information assurance (IA) and are a CREST approved Pen Testing company. We can also help your company become Cyber Essential Plus certified, assuring your clients that your organisation is committed to cybersecurity.
A cyber-attack can have a devastating effect on a business and that business's clients. We understand that every organisation is different with respect to cybersecurity and has a different starting point, goals and resources. Please contact us if you would like a no-obligation discussion with a qualified and experienced cyber security consultant who can help determine the right approach for your organisation.
You can see more information about our company HERE, or contact us directly on 0800 644 0193.