LexisDraft report: Dodging the draft? The risk behind proofreading failures in firms
Many clients are being ill-served by legal business when it comes to the primary 'product' of law: document production.
LexisNexis's research into proofreading and document review has found that not only do lawyers skip proofreading steps to save time in a high-pressure environment, their business services counterparts know this happens and are not doing enough to stop it.
Few firms are addressing this significant commercial and compliance risk that's being created by those entrusted with creating near-perfect documents. Some are in denial that it even happens.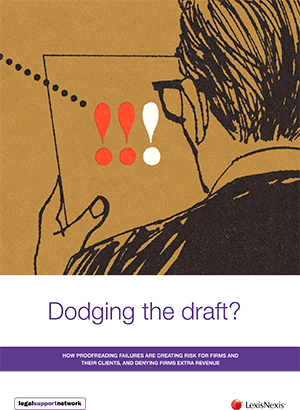 Here are the key findings from the research:
Firms aren't delivering the near-perfect work clients expect – a third of those polled say they've skipped proofreading steps.
Business services managers are either in denial about the gap between the quality of work expected of the firm and the reality, or concede it happens but believe there is nothing to be done about it. Others are aware of the problem, but admit they have yet to work out what to do to improve things. Only a tiny fraction of business services leaders are ahead of the game.
Almost two-thirds of fee earners say that they could complete more work if they used tools to help with proofreading.
Business services managers tell us that there is more work that their firms could do, if fee earners were more efficient in creating documents, and that firms could be more efficient in how they create those documents.
Few firms have invested in proofreading technologies, and many aren't even considering investing in it.
Business services managers lack understanding
Download the PDF above to get the full report.