How confident are you in your firm's redaction process?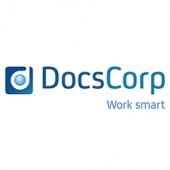 No law firm in 2019 needs to be masking text instead of properly redacting it. The days of running a black marker over a hard copy and scanning it back in to create a new soft copy should be long gone. The modern equivalent – drawing a black box over content in Microsoft Word and converting to PDF – shouldn't be far behind it, either. Why? Because PDF redaction solutions are widely available, reliable, and efficient.
Don't just mask sensitive information. Properly remove it.
Workflows like drawing black boxes over text, or changing the font colour to match the background, only mask the text. It just takes a few seconds and a simple copy/paste action to uncover it because the text layer is still part of the document.
Improper redaction has exposed national security secrets, business deals, and everything in between. Yet, there's a simple solution.
A PDF redaction tool like the one in pdfDocs completely removes information from a document so it can't be exposed. These tools burn redactions into the document so, as long as it's done properly, there's no way the original text can be retrieved.
Don't be surprised by how simple proper redaction can be when you have the right tool for the job. View the infographic to see how pdfDocs and its redaction functionality can help you redact with confidence.