Cybersecurity: Technology, alone, is not enough by Sprout IT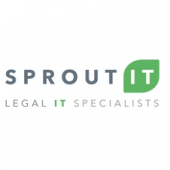 Cyber threats and the sophistication and speed of cyber-attacks are increasing at an alarming pace.
The huge volume of important and often sensitive data held and collated by Chambers and Barristers can be a soft target for perpetrators. Clients', barristers' and chambers' information, integrity and precious reputations, built over years of practice, can be decimated in a matter of minutes, should an attack occur.
Cyber Security is now as fundamental to the successful operation of an organisation, as is any of the core functions. However, Cyber Resilience is not simply a technology function. The entire process is reliant on the awareness and understanding of all staff, suppliers and contractors, which is why Cyber Resilience needs to underpin all security measures and controls. The Human Firewall.
Training your users to know what to look out for and understanding the weak points of one's own electronic practices and will strengthen your organisation's defences. It is widely recognised the greatest return on investment it will make, in the fight against cyber-crime. We have surely all read the unfortunate stories about 'conveyancing theft' or perhaps have seen for ourselves how prevalent attempts to imitate Heads of Chambers or senior staff, requesting funds transfers, are. It pays be vigilant.

Sprout CyberAware, powered by AXELOS, is a best practice Cyber Resilience Training programme. It is a portfolio of learning products that includes; certified training, awareness learning for all staff, leadership insight and a maturity assessment tool that enables good and timely decision-making on all aspects information security.