Accellion prevents data breaches and compliance violations when users share G Suite content with third parties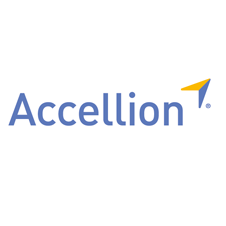 Enterprise Employees Convert Their Google Docs, Sheets, and Slides into Microsoft Office Files for Simple, Secure, and Efficient Communication with External Partners
Accellion, Inc., provider of the secure content communication platform that prevents data breaches and compliance violations from third party cyber risk, today announced secure, compliant, and convenient information sharing for enterprises using G Suite.
Enterprise G Suite users lack critical capabilities to send, receive, and share G Suite content securely, efficiently, or in compliance. With Accellion's G Suite plugin, enterprise users:
Securely share Google Docs, Sheets, and Slides directly from within each application
Automatically convert Google Docs, Sheets, and Slides into Microsoft Office files to enhance collaboration with third parties who use Microsoft Office
Send G Suite content through secure email or web folders to eliminate inadvertent external link sharing that can expose sensitive data
Share Google Docs, Sheets, and Slides using their corporate authentication with recipients' business email accounts outside the organization
Consolidate compliance reporting and use log data to create real-time visualizations into integrated SIEM products
In addition, Accellion offers G Suite users several deployment options to meet their unique security and data privacy requirements. For example, an on-premise deployment lets organizations meet critical data sovereignty requirements to comply with data privacy regulations like GDPR. A hybrid deployment provides enterprises full data privacy and control while lowering capital costs. Lastly, a FedRAMP deployment allows businesses to demonstrate to their private and public sector customers that data security is a top priority.
G Suite users also leverage a variety of integrations with content repositories and critical business systems to ensure the sensitive information they exchange with third parties is secure and in compliance.
"Accellion opens the world to enterprise G Suite users with a secure and compliant way to share confidential information from Google Docs, as well as from Salesforce, SAP, and Oracle," said Yaron Galant, chief product officer with Accellion. "IT security and compliance professionals can rest easy knowing every file their employees exchange with third parties, regardless of file size or type, is funneled through a single platform to protect IP, PII, and PHI from a data breach or compliance violation."
The G Suite plugin is available to Accellion platform customers at no additional charge.