Case study: LLM Criminal Defence Solicitors and Sprout IT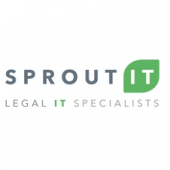 About Sprout IT
Sprout IT enable law firms & barristers' chambers to achieve competitive advantage and peace of mind, through the innovative use of best-of-breed technology, focussed cyber security and resilience, award-winning services, and passion for service excellence.
From Document Management Solutions and fees/diary software, to email archive, compliance, encryption and security, Sprout IT can plan, implement and support your entire infrastructure.
Challenge
LLM Law is a small firm that primarily deals with criminal cases & appointed representation. They had a server running Windows Small Business server. As a small firm the client wanted the most complete cloud possible but in a small firm price point.
The solution
We designed the solution using Microsoft RDS technology and a Dell SMA. Using Server 2012 R2 due to client CRM support limitations a full Remote Access solution was provided. The client only has 15 users so usage of high availability to not be advantageous against price. To provide mission-critical services, the infrastructure is still hosted on the same core Sprout Cloud Platform. Supplying fully redundant storage and vm resources.
A key element was to move to per user per month billing so that as the resources can be added as the organisation grows. This is provided by being moved to the Cloud rather than on-site equipment that was prone to single point of failure. Use of Service Provider Licencing retired all use of Small Business Server editions of Microsoft Server technology and as a result removes many restrictions. The business is now capable of using full feature sets and can expand easily. During the course of this solution the client was advised to take Mimecast Archive and Security. This was key to reducing risk.
End to end anti-virus, patch management and monitoring as standard. With the choices made and package selections we deliver the core Sprout Cloud experience at a far reduced cost. While lacking some premium feature all core aspects of Remote working, location agnostic and no on-site physical servers provided huge benefit and resilience to the firm. Backups are taken hourly and encrypted for data compliance.
The results
Hardware Redundancy
Sprout Cloud Platform Advantage – As a Service Management
Support included in per user per month billing
Remote Working – Work from Anywhere
Full backups hourly
No physical equipment (only a firewall) on-premise
Increased security with Dell SMA VM appliance.