What's been happening at Legal Workflow in March 2018? Well, quite a lot actually…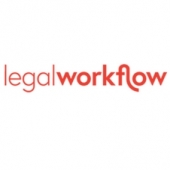 Legal Workflow, the pioneering IT consultancy and creator of innovative products and services for the legal profession, have just completed a rebrand and launched our new website at www.legalworkflow.com.
We also exhibited and presented during LegalEx 2018 at Excel in London on 21st and 22nd March 2018. On our stand we talked to visitors and shared news on our latest range of services and products including an ingenious chatbot, which not only acts as a lead generator but asks and answers clients questions related to their particular case.
Martin Langan, our Managing Director, presented to a packed room on "Online legal services and Artificial Intelligence" in Theatre 8 at 1pm on Thursday 22nd March 2018. "The legal profession can no longer stand apart from the rest of the commercial world. Clients will increasingly expect legal services to be delivered digitally, with full online interaction with their lawyers. Self-service and unbundled provision will become the norm. Artificial Intelligence (AI) will become part of the process and lawyers will interact only where their skills are truly needed. This seminar will explain how you can meet these demands."
And last – but not least we moved to new offices, so from 26th March our address will be The Hay Loft, Hills Barns, Appledram Lane South, Chichester, West Sussex PO20 7EG.