Six Matters.Cloud features to help you manage your law firm opportunities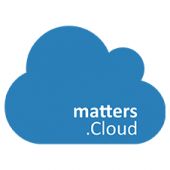 Keeping track of potential business opportunities is key to successfully growing your law firm, whilst some legal firms use a separate CRM system to manage their new enquiries there are benefits to be had to using a single platform for both opportunities and matters.
Here are our top 6 tips for managing your opportunities within Matters.Cloud:
1. Capture Prospect information right from the outset
Capturing details of potential clients right from the initial engagement can assist in early identification of potential conflicts, allow you to capture information as it is received and ensure that you follow up on actions you have committed to.
Matters.Cloud allows you to create Contacts and Organisations without needing to assign them as clients ensuring that all information is tracked throughout the initial engagement process.
The process to convert a prospect to a client is simple, with a clear 'Convert to client' button, ensuring that data only needs to be entered into the system once.
2. A single view of all related Opportunity information
Matters.Cloud brings together all Opportunity related information into a single view providing access to estimated fees / expenses, time and expenses spent on winning an opportunity, tasks, calendar events and documents,
This allows your legal partners to focus on winning opportunities, and not waste too much non-billable time on chasing unqualified leads.
3. Get organised with a folder for each Opportunity
Deciding where to store 'pre-matter' correspondence can be tricky if your document system is purely matter centric.
That's why Matters.Cloud will automatically create a folder on Google Drive or Dropbox for every Contact and Opportunity, which means that users will be able to start creating and saving documents the instant that an opportunity is registered in the system.
4. Use visual pipelines to track the lifecycle for each Opportunity
Matters.Cloud includes a visual pipeline to help you instantly visualise where each opportunity is in your business development process.
The Pipeline displays all opportunities in colour-coded cards you can drag and drop between stages. You can dive deeper into a specific opportunity by double-clicking on its card. This simplified design enables lawyers to manage business development themselves.
5. Capture Time spent on winning new business
Understand the cost of business development by capturing the time spent on winning each opportunity.
6. Never miss an Opportunity by using Tasks
Getting the balance right between undertaking billable work on matters and following up with clients can be a challenge.
To ensure you never miss an opportunity Matters.Cloud allows users to create a set of tasks to remind them about the status of opportunities. For instance, you could set up a task to 'Follow up on a proposal' and put a reminder in a week's time. This enables lawyers to monitor opportunities, and capture more qualified leads for the organisation.
Bringing It All Together
Matters.Cloud enables legal professionals to track time and expenses, manage clients and matters, raise invoices, develop opportunities and keep up to date with tasks all within a single cloud based platform.
Whether you are a single lawyer or operating as part of a larger firm, you can feel confident the system has been designed with security in mind. You can select from one of 6 data regions to comply with relevant data laws, operate in any of 15 different languages and cater for local currency and tax requirements.
Try Matters.Cloud with a free 30-day trial at www.matters.cloud.