How to step up data security in your business by ADDS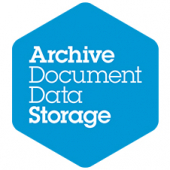 To say "data breaches are on the rise" is an understatement. In August 2017, the computer reseller CeX was hacked, potentially compromising the personal information of two million customers. Two weeks later, the US credit agency Equifax reported a cyberattack incident thought to reveal the personal information of 400,000 UK citizens as well as over half of all US citizens.
Now is the time to step up data security in your business. In this blog, we offer tips for doing so.
Protect data at rest
"Data at rest" includes your archival documents and backup tapes. Make sure that both are protected from unauthorised access.
Use an off-site file storage service to keep your inactive files safe. They are stored in a records centre built purposely for the long-term storage, security and preservation of archival records, and equipped with the following features:
24-hour internal staffing
entry access controls
monitored security systems
fire detection and suppression technology
secure loading and unloading areas
Each box and file is barcoded, entered into a tracking database, and managed by background-screened records management professionals so your sensitive information is restricted to select individuals.
Your file storage provider can also offer a solution for safeguarding your backup data. Your data tapes are barcoded and stored in a fire-resistant, climate-controlled vault. Advanced security monitoring and entry control systems prevent unauthorised individuals from accessing the vault. Tape management technology is used to monitor and log the movement of your data tapes between your building and the data vault within a secure chain of custody.
Train your staff
Criminals use phishing scams as a way to gain access to sensitive data. Seemingly-legitimate emails are sent to unsuspecting employees who click the links thinking they are just "verifying" information when, in fact, the information is being stolen. Fortunately, your employees are the first line of defense against phishing scams and other data security threats. Make sure they receive regular training on information security and best practises for keeping documents and data safe.
Implement a secure destruction plan
Many small businesses fail to shred sensitive information in a prompt and secure manner. A secure destruction service ensures your expired records and media is routinely destroyed. Locked containers are placed next to printers, photocopiers, and in other high-traffic office areas, making it easy for your employees to promptly discard expired documents and media. Weekly, fortnightly or monthly, your information is professionally collected and shredded.
Small businesses often lag behind big corporations in data security. Use these tips to step up data security in your business.
Archive Document Data Storage (ADDS) provides records management and data protection solutions for businesses throughout London, Bristol, Bath, and Swindon. Please contact the File Queen for a free consultation or further information filequeen@archivestorage.net