Accesspoint Technology – Helping better communication and improving operations with MS Teams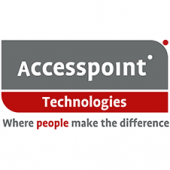 A law firm is a complex environment by nature, with every person juggling their own workload and sticking to fast approaching deadlines whilst still maintaining the high level of service required for clients on a day by day basis. So now, more than ever before is the time to consider how firms can continue running business as usual from home.
To remain on top of all existing client work, as well as new client work, firms must adopt new ways to improve their operations, preferably in a cost-efficient, streamlined manner.
At Accesspoint we have seen how Microsoft Teams has proved to be among one of the best tools that will help your firm achieve its desired goals. By implementing this, your firm will immediately be able to combat many of the usual challenges seen every day as well as the new challenges brought about by working from home.
As recognised Microsoft Silver Partners we have in our employ, fully qualified Microsoft engineers with a wealth of knowledge and experience to help you discover the great features designed to help your firm work together more closely and remotely.
How will Microsoft Teams benefit your firm?
Virtual meetings: This feature provides the perfect alternative to face to face meetings, use Microsoft Teams on your laptop or phone to connect with any member from your firm and easily join conference calls of up to 20 people. Through the virtual meetings you can simultaneously share your screen, files and more to allow every participant to stay on track and not get lost in the midst of the call.
Planners/milestones: Plan your next move efficiently as this feature automatically syncs up with your outlook calendar, to ease the stress away from missing deadlines, meetings and any other important event.
Real time editing: Once documents are sent within the Microsoft Teams app, anyone with access can edit the document and have it automatically update your original version, whilst giving time stamps on when the file had been amended. This not only takes out the fuss of having to download, save and send documents over and over, again but it also allows everyone to be on the same page as there is no fear of overwriting someone else's work.
Protection against security threats: The Microsoft package as a whole, fights against the common threats small to medium sized businesses see, now you can protect against data leaks through restrictive copying, sharing data encryption on devices. a