Accesspoint Legal Technologies: Digital client onboarding package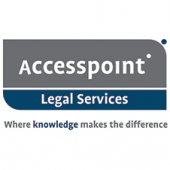 According to the Legal IT Landscapes 2020 research, the desire for SME law firms to explore agile working has risen. When firms were asked 'what percentage of the workforce would you like to enable to regularly work from home?' we received an average response of 32%. As we are now all probably aware that figure will have increased significantly as the concept of remote working has now become a reality for the vast majority in light of the recent COVID- 19 developments.
However, as firms across the UK continue to work from home during this time, a number of new hurdles that come with the new environment are now evident. New client onboarding has become one of the biggest obstacles standing in the way of ongoing work amongst firms, as they are no longer able to have face to face meetings with clients in order to start their legal process.
At Accesspoint, we have addressed this problem by creating a new and highly efficient toolbox!
Our Digital Client Onboarding Package provides your firm with a number of choices to take on new clients remotely and with ease.
We believe that by implementing this useful package to your teams workflow your firm will not only have a new and effective way to engage with clients, but will also be able to pull off a seamless transition from the office to remote working and ensure operations run as normal.
What does the package include?
Web Integration Tool Kit
This feature is the perfect alternative to meeting at the office, as your client can quickly visit your firm's website and complete the online form consisting of core details, such as names, emails and any other fields your firm requires. Once completed, the client's data is then injected from the web form straight into Tikit P4W and created as a prospect.
Tikit FormShare
As a secondary solution, we can create an easy to use workflow by adapting the process to run via a webform that integrates with FormShare. This would allow firms to receive basic information from a client and then continue the onboarding process using the completed form sent from the client.
Skype for Business
Integrated through your webpage, Skype will give your firm a stress free method of engaging with clients through live chat via phone calls and video calls. The Skype feature could be situated above the webform/FormShare form (on your website) to allow clients to request a call with a fee-earner to help them go through the form.
Payment Portal
This handy tool is a secure, easy to use standalone portal which allows your clients to pay their deposits/initial consultation fees at the start of the process plus any outstanding fees at the end of the case. This customisable feature is the perfect way to complete your digital client on boarding, as it facilitates useful monthly/annual reporting and easy editing to ensure reliable cash flow for your firm.