Accesspoint Legal Services: Remote working is the new normal!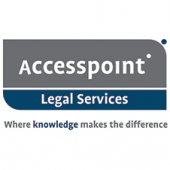 It is very clear to see that things can change within a short amount of time. In light of the recent Covid-19 developments, we have seen just how quickly the traditional office can become obsolete for some. Through what has been an unusual and unpredictable time one thing is for certain, remote working is the new normal, especially for law firms.
During this difficult period, we have seen first-hand how new procedures have pushed firms to come out of their comfort zone and trust in innovative solutions to continue working as normal. One of the biggest obstacles many have faced since closing their physical doors is client onboarding, which is why we have created the perfect Digital Onboarding Package, to allow your firm to engage with their clients remotely and with ease!
Web integration tool kit
This feature is the perfect alternative to meeting at the office, as your client can quickly visit the firm's website and complete the online form consisting of core details, such as names, emails and any other fields your firm requires. Once completed, the client's data is then injected from the web form straight into Tikit P4W and created as a prospect.
FormShare
As a secondary solution, we can create an easy to use workflow by adapting the process to run via a webform that integrates with FormShare. This would allow firms to receive basic information from a client and then continue the onboarding process using the pre-filled form.
Skype
Integrated through your webpage, Skype will give your firm a stress free method to engage with clients through live chat via phone calls and video calls. The Skype feature could be above the webform/formshare form to allow clients to request a call with a fee-earner to help them go through the form.
Payment Portal
This handy tool is a secure, easy to use standalone portal to allow your clients to pay their deposits/initial consultation fees at the start of the process as well as any outstanding fees at the end of the case. This customisable feature is the perfect way to complete your digital client on boarding, as it facilitates useful monthly/annual reporting and easy editing to ensure a reliable cash flow for your firm.
Interested? To contact us please visit www.theaccesspoint.co.uk.