5 Matters.Cloud and Google Drive features to help you organise your files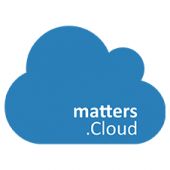 One of the key challenges when growing a law firm is how to store your documents securely whilst maintaining the ability to collaborate with others.
Here are our top 5 tips for using Google Drive together with Matters.Cloud:
Get organised with a folder for each Matter
Creating a new folder for each Client and Matter can be both time consuming and prone to error.
That's why Matters.Cloud will automatically create a folder on Google Drive for every Client and Matter, which means that users will be able to start creating and saving documents the instant that a Matter is created.
Access documents on the move with The Google Drive App
Modern lawyers work from multiple locations and require secure access to documents when meeting with clients or attending court.
All folders and documents created via Matters.Cloud will be accessible via the Google Drive App directly from your iPhone or Android device, meaning you never have to miss out on viewing the latest version of a document.
Use familiar applications like G Suite
Drive integrates seamlessly with Docs, Sheets, and Slides, cloud-native apps that enable your team to collaborate effectively in real time.
Users can edit and store over 100 file types, including Microsoft Office, PDFs, images, and more.
Version control
Google Drive allows you to see changes made to your files in Drive and keep track of who made those changes.
Instead of making duplicate files every time, Google keeps track of each revision to the file.
It even helps to keep track of revisions made in another location, such as your local drive.
A single view of all related Matter information (including documents)
Matters.Cloud is a cloud based practice management tool for busy legal professionals.
It brings together all Matter related information into a single view providing access to related parties, time and expenses, invoices, tasks and documents stored in Google Drive.
Try Matters.Cloud with a free 30-day trial at www.matters.cloud.