Rogers Legal adopts organised cloud-working approach with Quill's software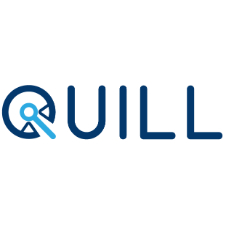 When Trudy Rogers established her specialist private client law firm in 2014, three of her most immediate requirements as a sole practitioner were self-organising software, off-site hosting and technical back-up.
She chose Quill's cloud-based legal accounts and practice management software – Interactive – with add-on document management module.
15 months later, Trudy explains: "I wouldn't have been able to manage my first year without Quill. The challenge for sole practitioners, me included, is the need to juggle administration with client work. You're your own personal assistant, clerk, fee earner and managing partner all in one.
"I don't have room for wall-to-wall filing cabinets; I can't afford server equipment which costs thousands; and I'm not an IT expert. Thankfully, that's the typical profile of a Quill user!"
By subscribing to Interactive, Trudy has outsourced her IT infrastructure, ongoing maintenance and support responsibilities to Quill with the additional benefit of a fail-safe business continuity plan.
"Interactive's a hosted application which means my data and documents are stored and backed up in Quill's cloud," continues Trudy. "Should things go belly up, for example if I have an IT breakdown, these electronic files are secure and I'm happy that I have complied with my obligations to protect client confidentiality in the way that Quill stores and manages my clients' data.
"I don't exclusively work from my office either. I need the ability to work flexibly when I'm out of the office. The cloud's remote access capabilities allow this to happen.
"The technical service provided by Quill is brilliant too. If the helpdesk don't immediately answer my calls, they ring me back swiftly and talk things through over the phone. Their never-ending patience is equally important for a self-confessed computer Luddite like me! They really are a credit to Quill."
Interactive's easy-to-use yet intricate functionality enable software users to effortlessly manage every area within a legal business.
"Apart from my ledgers and annual accounts, I perform all other functions," adds Trudy. "The mere fact that I'm able to do this, despite my limited expertise, shows how user-friendly Interactive is. I know exactly where my files are stored and how to access them, which is vitally important as the lone fee earner who lacks the time for administration because my client-facing legal duties always come first.
"I look after my accounts transactions and bank reconciliations with the e-chits feature. I track time spent on tasks with the on-screen time recording tool. This is so useful for assigning chargeable time to matters and shows how productive I've been each day – or not, as the case may be! This also helps with estimating case valuations for future projects of a similar type.
"Automatic calculations are another useful feature, particularly for complex court of protection rates. Interactive makes these hard-to-do jobs completely painless and picking up disbursements on your bills by prompt is great. This is just another small but vital piece of assistance."
In her concluding statement, Trudy praises the non-prescriptive format of Interactive, commenting: "Full, rigid case management systems are too restrictive for private client work because no one template fits everyone. With Interactive, there's just the right level of assistance, automatically populated document templates, user prompts and diary reminders to drive matters onwards and show case progress with supporting correspondence from a centralised view. I'm extremely organised and it's thanks to Quill's software."