Introducing the Web Based Will Builder from Accesspoint Legal Services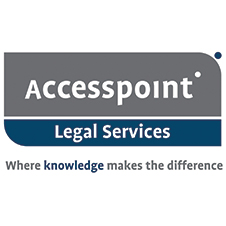 When was the last time you seriously considered how to maximise your firm's website to link with your PMS whilst providing a user friendly and efficient tool for your clients?
Our new Web Based Will Builder does exactly what it says on the tin and delivers just that - the perfect solution!
Take your firm to a new level with our new modern and sleek Web Based Will Builder. It can provide the essential base your firm needs to create any type of will your client desires – online and remotely.
What are the benefits?
Quick and Easy - The web based will builder is created by legal IT experts so that your clients can complete basic personal information on a well-designed web form with no fuss.
Remotely done - Remove the need for coming into the office, as the web forms are integrated with your firm's site and completed remotely by clients, which will then be sent directly to your solicitor.
Customisable - Your firm can design the web form to fit your branding requirements as well as pick and choose what steps or questions you would like to be added to your web form, providing your clients with a tailored approach.
P4W integrated - Enjoy the benefit of having completed web forms dragged and dropped into Tikit Partner for Windows, where it will be duplicated / conflict checked and used to auto populate wills and other letters and documents.