Accesspoint Technologies — Regaining control over security threats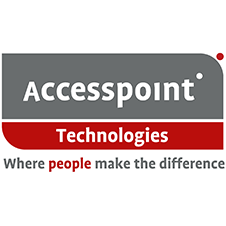 Security threats can come in many shapes and sizes, which makes keeping your firm free from attacks that much harder. Identifying, minimizing and preventing threats is possibly the hardest yet most overlooked area within a law firm, whether it is because many firms have to handle heavy workloads on a day to day basis and don't have the time to ensure a high level of security or they simply don't know where to start.
Law firms now have the option to seek help from an experienced Legal IT specialist!
At Accesspoint robust secure solutions is the name of our game, we have an extensive amount of experience and as a result only provide the very best in legal IT consultations, integrations and more.
Think about IT
Training and testing - Specialist phishing attack training and consultancy is vital for the whole team, it ensures employees are not only savvy to the latest vulnerabilities that are exploited by real hackers, but also ensures any new investments aimed at providing security is being utilised to its full potential. We offer training and support for any ongoing maintenance or problems concerning security threats and in addition simulated penetration attacks can be used extensively to keep everyone on their toes and provide peace of mind.
Microsoft products - Our team of experts are well trained on implementing and maintaining a wide range of Microsoft services and products to protect and modernise the security within your firm. The azure active directory integration facilitates SSO and multifactor authentication to prevent cyber security attacks, it is also a great tool for enabling remote work, as it provides effective collaboration tools such as Microsoft Teams to allow users to securely access cloud apps from home. Additionally, the Azure DNS Service offers a handy hosting service for DNS domains which gives your firm a great sense of security through access to activity logs, role-based access control and more.
Device Encryption - Gaining access to lost, stolen, or compromised computers is one of the biggest risks as many employees continue to work remotely. Ensuring your firm's data is safe from the start is crucial to avoiding unnecessary costs and leaks concerning client work. We can provide your team with the latest device encryption and MDM tools that keep confidential data secure as they mitigate unauthorised data access by enhancing file and systems protections.