Accesspoint Legal Services: Process automation is on the rise!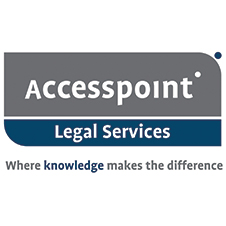 The reality of today's legal world is that not only do firms use a lot of their time and manpower to do a ton of paperwork, they must also plan out every step of their client's legal journey. Although this is the traditional method and it is vital to providing a high quality service, could the process be faster with the same results?
The common misconception is that in order to get work done at a faster rate, the firm must bring on more workers and increase their expenses. This isn't always the case, especially if you're a forward thinking law firm.
SME firms all over the UK are investing more into improving the efficiency of their firm via process automation. Innovative technology is now available that can cut out countless steps and streamline a firm's workflow by injecting accurate data straight from the practice management system to the relevant forms and templates that are used on a daily basis by most firms.
With over 600 law firms in England using Partner for Windows case management system (P4W) it's clear to see why there is a high demand for automated workflows written within P4W. The available workflows for P4W allow firms to have an 'out of the box' workflow for Sale and Purchase transactions which can then be added to and developed for their own in-house procedures. As a result, your firm's process becomes more tailored and accurate for everyone involved. In addition to this, you can feel more at ease with not missing a deadline again as the available software also automatically populating dates such as Exchange and Completion to fee earners and central calendars if applicable.
Reducing common tasks that take up a large portion of the day can often be pushed to the back on the list of priorities. However, the rising trend in automation has allowed new and sophisticated technology to break through and change the game for many law firms, don't get left behind!
Invest now and optimise your firm's time to focus on what matters.