Accesspoint Legal Services explore different process automation products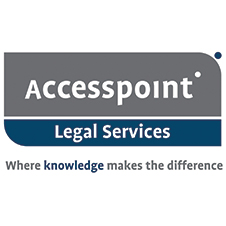 More and more firms within the UK are realising how beneficial implementing process automation in their workflow can be and how they risk falling behind without it.
At Accesspoint we listen to the needs of many firms and focus on constantly bringing the most efficient automation to the market. We've ensured that our effective process automation product can be linked to your firm's practice management software, allowing your firm to provide a streamlined approach in handling client cases as well as freeing up time amongst fee earners whilst dramatically reducing costs.
Explore what we have to offer and elevate your firm today.
Sales& Purchase Screens and Workflows: Written within Partner for Windows (P4W) case management system to give a streamlined approach in completing time consuming tasks. The workflows allow firms to have an 'out of the box' workflow for Sale and Purchase transactions which can then be added to and developed for their own in-house procedures. As a result, your firm's process becomes more tailored and accurate for everyone involved.
Pre-coded Oyez forms: We offer a wide variety of pre-coded Oyez forms to provide firms with a more efficient and effective method of capturing data within the legal process. Our Oyez Forms help streamline your firm's workflows with the feature rich form system offering an innovative, dependable solution that integrates easily within Tikit Partner for Windows (P4W).
Formshare: Our custom FormShare forms enable firms to use Adobe PDF Forms as an efficient method of electronically capturing data, allowing your firm to work smarter not harder. Our wide range of automated forms can show reduced errors in work and drastically cut down on costs as accurate data is pulled straight out of Partner for Windows.