LPM webcast: How to roll out tech projects effectively during the pandemic, in partnership with Quiss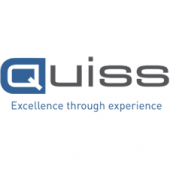 In recent years SME law firms have invested in tech and innovation initiatives to improve operational efficiency and performance. But the pandemic has meant that many of those projects were put on hold. Join us virtually on 17 September at 10.30 - 11.30 am to discuss the future of those initiatives and explore how SME law firms can continue running tech and change projects efficiently while keeping their business thriving in a post-pandemic world.
LPM editor Kayli Olson will be joined by our special guests from Baskerville Drummond Group, David Baskerville, Kevin Goosman, and Nigel Stott, all top tech experts and experienced IT leaders at top-50 law firms, to discuss:
• Discover the important trends in tech and innovation initiatives in SME law firms today, including the current state of PMS integrations, and to what extent the pandemic has created a platform for change,
• Investigate the most suitable tech opportunities out there and identify which existing IT and change projects should be prioritised to increase profitability and efficiency in tough times,
• Gain vital practical advice and key tips that will equip you and your teams with appropriate and effective approaches to rolling out tech projects while driving business growth.