Legal Practice Management 2014 conference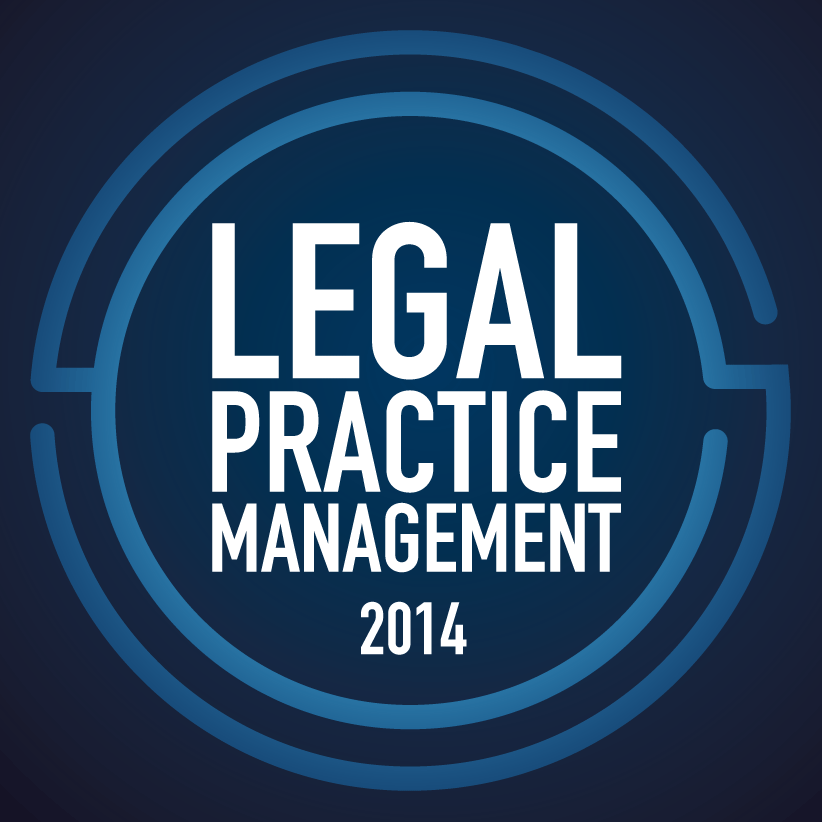 Legal Support Network's Legal Practice Management 2014 conference is the only event of its kind to specifically target practice managers and directors, heads of operations and heads of finance from small to medium UK law firms.
Aimed exclusively at professional managers from on average 2-25 partner firms, this one-day event will provide you with a unique opportunity to discuss common challenges, share experiences and hear the latest thinking from your peers.
Have a look at the photos, video from the 2013 conference for a taste of what to expect.
Feedback from last year's event:
"Excellent opportunity to network, share good practice. Good to meet people facing the same issues and challenges" Ruth Vallance, Practice manager, Caunters
"Very good, great mix of speakers/subjects" Bill Hatton, Practice manager, Freemans
Don't miss this rare opportunity to meet and learn from your peers!
If you have any queries, please call Matthew Armstrong on 020 8322 7792 or email matthewa@lsn.co.uk
What to expect
09.00 Registration and coffee
09.30 Welcome and opening address
Rupert Collins-White, editor of LPM magazine and Director, Legal Support Network

09.35 Creating transformative change inside law firms
• Resolving the incumbent's dilemma…… radical ideas for fast-changing times
• Vision, leadership and the change process
• Overcoming inertia to create an environment in which change is the norm
• Enacting change management programmes within your firm

Andrew Hedley, director, Hedley Consulting
10.25 Panel discussion
A vision of successful SME legal services providers in 2020
• Adopting a more corporate management structure for your firm
• Defining and leveraging your market: business retention and new business
• Evolving a business model to exploit market changes
• Building business development into your strategy; strategies for growth
David Albans, head of business services, Royds
Simon McCrum, managing partner, Darbys
Carl Ritson, practice manager, HRS Family Law
Moderator: Rupert Collins-White, editor of LPM magazine and Director, Legal Support Network
11.15 Coffee
Please choose one of the following two sessions
11.45 STREAM 1 Facilitated workshop
Marketing strategy and implementation: Creating and refining your proposition; managing a marketing strategy, identifying existing and emerging purchasers
• Engaging with younger generations of legal services buyers, both consumer and business – how can firms create effective interactions and profitable relationships?
• Developing engagement through social media channels and developing these as a route to market
• Leveraging digital marketing methods and techniques
David Laud, chief executive, Samuel Phillips Law Firm
STREAM 2 Panel discussion
Changing responsibilities of fee-earners in today's marketplace
• Understanding profitability and cost management at a fee-earner level
• Educating lawyers to be more effective, efficient and streamlined in their processes
• Influencing and promoting change in entrenched behaviours for long standing partners
Clive Meredith, practice director, Wollen Michelmore
William Robins, operations director, Keystone Law
John Wade, Director, Oakview CCM
Moderator: William King, commercial and financial partner, Beetenson & Gibbon

Please choose one of the following three sessions
12.25 STREAM 1 Facilitated workshop
Developing a better customer experience for tomorrow's clients
• Obtaining actionable insights from customer feedback processes?
• Aligning your delivery to meet the changing expectations and needs of customers
• Implementing a culture where the delivery of better customer experience pervades the firm
• Enhancing customer understanding as part of the culture to make firms more responsive

Victor Olowe, director, Winzest Consulting
STREAM 2 Panel discussion
Creating new career paths and incentivising staff within a legal world less focused on partnership
• Finding new and better ways to motivate and retain lawyers
• Engagement and retention: adapting your talent management programme to the changing aspirations of lawyers
• What does the future shape of remuneration and incentivisation look like within a law firm
• Identifying and developing future partners within the firm for partner succession
Pamela Austen, practice director, QualitySolicitors, Howlett Clarke
Jenny Pelling, business director, CILEx Law School
Matthew Fretten, managing partner, Frettens
Moderator: John Wade, director, Oakview CCM

STREAM 3 Facilitated workshop
Risk management and compliance: overlaying the new way of working within a firm
• Working in a compliant way but a more commercially efficient way?
• Managing the expectations of the COLP and COFA roles along with normal workloads
• Exploring lessons learnt from the new regulatory model
• Dealing with the challenges faced with the roles around accountability and implications of decisions
Michelle Garlick, partner and regulatory/compliance consultant, Weightmans
Alexandra Elliott, manager-firm based supervision, Solicitors Regulation Authority
Clare Flynn, Supervison team leader, Solicitors Regulation Authority
Robert Mowbray, owner, Taylor Mowbray
Moderator: Amy Bell, head of risk and compliance, QualitySolicitors

13.05 Lunch

Please choose one of the following three sessions
14.05 STREAM 1 Facilitated workshop
Re-examining your approach to procuring PII for your firm through better standards and communications
• The importance for law firms to have an ongoing, transparent relationship with insurers and brokers
• Risks associated with opting for an unrated insurer; finding affordable PII cover with a rated insurer and how to avoid them
• Demonstrating sound financial and risk management within your firm; does the answer lie with achieving ISO9001 and/or Lexcel accreditation?
• Update on what information is needed to achieve better coverage than the minimum terms

Richard Brown, executive director, Willis Professional Indemnity
Richard Palmer, partner, Watson Burton
STREAM 2 Panel discussion
Pricing and cost predictability: Defining a balance between profitability and efficiency
• Creating pricing models that play to the changing landscape of legal; are multidimensional transparency models the answer?
• Exploring realistic ways of effectively managing a firms cost base and creating awareness at fee-earner level
• Putting clients in control with greater cost predictability
• Creating profitable, sustainable work streams

Robert Mowbray, owner, Taylor Mowbray
STREAM 3 Facilitated workshop
Innovation and adaptation: re-engineering the use of technology to retain and develop competitive advantage
• Investment in existing technology v's Investment in new technology
• Creating an improved client experience through innovation and adaptation of technology
• Increasing fee-earner mobility; competing with new legal businesses that are already in the cloud
• Overcoming the challenge of the emerging preference for digital over personal communication by client and fee earner
Adam Makepeace, practice director, Tuckers
Nagib Tharani, director, international expansion, Clio
Glyn Morris, finance director, Higgs & Sons
Moderator: Rupert Collins-White, editor of LPM magazine and Director, Legal Support Network
14.50 Coffee
15.20 Getting the Basics Right – How to Drive Growth and Profitability
• Some common mistakes firms make
• Practical examples of how you can improve processes to drive growth and profitability
• How small improvements make a big difference

Jitendra Valera, Chief Marketing Officer, Advanced Legal

15.40 Presentation

Thomson Reuters findings of extensive SME law firm market 2014 research, compiled exclusively for the LSN Legal Practice Management Conference

• Types of strategic initiatives these firms are undertaking
• Various practice metrics and business development tactics
• Priorities for the firm
Chris Jeffery, head of small law, Thomson Reuters
16.00 CASE STUDY

Re-building a law firm: from dark nights to bright stars

• How did Darbys move from a trading loss in 2007 to record years and 35% growth year on year in 2012 and 2013
• Aspiring to become the country's first national legal brand?

Simon McCrum, managing partner, Darbys
16.45 Summary and closing address

17.00 Networking drinks reception - sponsored by Paragon
Don't miss this unique opportunity to network and share experiences with your peers
Who will benefit
Practice managers, practice directors, COOs, heads of operations, CEOs, business support directors, heads of administration, office managers, heads of finance and accounts managers
Additional Information/Speakers
Our expert speaker panel includes:

David Albans, Head of Business Services, Royds
David has worked in law firm management for over 20 years starting as an Operations Manager at Nelsons in the East Midlands before moving on to a West Midlands firm as a Chief Executive. For the past 10 years he has been based in London working as Head of Business Services for a mid-sized City firm Royds. He completed an MBA at Nottingham which included time spent in the US, on a research project, interviewing a number of US law firms on strategy and business development. David is also a Member of (MCIM) the Chartered Institute of Marketing.
Pamela Austen, Practice Director, QualitySolicitors, Howlett Clarke
Pamela has 25 years' experience in senior management positions covering a range of responsibilities with a background in Business Management, Human Resources, Managed Services and Customer Services. She has worked in a number of industries although mainly in the telecommunications industry and more latterly over 10 years in the legal sector. Pamela is currently the Practice Director at QualitySolicitors Howlett Clarke which of itself covers a range of responsibilities and ensures that she has a lot of work to keep her occupied, it also means that two days are never the same. In addition she also carries the responsibility of being the firm's COFA and overseeing compliance with our Lexcel, IIP and Conveyancing Quality Scheme accreditations.
Amy Bell, Head of Risk and Compliance, QualitySolicitors
Amy Bell is the Head of Risk and Compliance at QualitySolicitors. Amy is a solicitor who has 8 years' experience in compliance at Pannone LLP. Prior to that she was a personal injury fee earner at Pannone, specialising in Road Traffic Accidents. She joined Pannone on qualification after a hectic training contract with a 5 office high street firm in Greater Manchester. Amy is a member of the Law Society Task Force on Money Laundering. She is also the author of the Law Society's toolkit on the Bribery Act and their Elearning package. Her passion is making compliance accessible. She is an accomplished speaker on legal issues, both in house and at publicly on a wide range of compliance topics.
Richard Brown, Executive Director, Finex Global
Richard Brown has now spent over 30 years in the insurance industry with over 20 of those specialising in PI insurance. Richard has specific responsibility for sole practitioners and manages our relationship with The Sole Practitioners Group. He knows many of the SPG committee personally and acts for them in the purchase of their PI insurance cover. Richard has been a regular speaker at both the national conference of the SPG and regional group meetings. The advice that he has given covers risk management, where claims come from and how to approach renewal to achieve the best outcome. Prior to joining Willis, Richard had spent the majority of his working life at Alexander Forbes Professions which he joined in 1989. During his time at Alexander Forbes he rose from working on the surveyors' and solicitors' account to ultimately becoming the Group's International Marketing Director.
Rupert Collins-White, Editor of LPM Magazine and Director, Legal Support Network
Rupert is editor of LPM magazine, the only magazine for law firm management in the UK. He's also editor of LPM's sister title, Briefing, and head of content and community for Legal Support Network. Rupert has worked in legal publishing for nine years, and previously spent six years writing about technology. He's passionate about bringing ideas from the general business world into legal, and about helping legal services businesses become successful in tomorrow's more competitive market. In his spare time he likes family stuff, motorcycling and cheese (not always in that order)
Alexandra Elliot, Manager – Firm Based Supervision, Solicitors Regulatory Authority
In April 2011, Alexandra took up the role of Manager of Firm based Supervision and is responsible for the risk based oversight of over 11,000 solicitors' practices. Alexandra has been with the SRA for 11 years; previously she was Manager of Supervision Operations which was responsible for conduct and regulatory investigations arising from reports from solicitors, member of the public, clients and other parties. Alexandra's background at the SRA has been in conduct investigations, and until 2010 she was a Senior Adviser giving technical input and support to such matters. Alexandra began her career as a solicitor in private practice where she specialised in family and childcare law, as well as civil litigation
Clare Flynn, Supervision Team Leader, Solicitors Regulation Authority
Clare joined the SRA in 2006 and currently works within the supervision unit. Clare manages a team of supervisors who are responsible for the risk-based oversight of the entire regulated community and central to the delivery of the outcomes-focused approach to regulation. As part of the management group, Clare also provides coaching support, technical leadership and operational delivery to the unit.
Matthew Fretten, Managing Partner, Frettens Solicitors
Matthew joined the family firm in 2002 and became Managing Partner in 2012. This role gives him responsibility for the strategic growth of the firm and, working alongside 5 Partners, motivating, managing and developing the firm's 50+ staff situated across 3 offices. As a solicitor, Matthew deals with all aspects of non-contentious company and commercial work and is recognised in the Legal 500 and Chambers & Partners directories as a specialist in his field.
Michelle Garlick, Partner and Regulatory/Compliance Consultant, Weightmans
Michelle, a professional indemnity lawyer, is a partner at Weightmans LLP and leads its Compl-i service, a business consultancy service to law firms advising on regulatory and compliance issues, risk management and claims and complaints handling. Michelle is a well-known speaker on the legal circuit and has had a number of articles published in relevant legal media. She is a consultant for the Law Society's Risk and Compliance service, a committee member of and contributor to the Legal Compliance Bulletin and is the author of The COLP's Toolkit, published by The Law Society. She is also a council member of Manchester Law Society and chair of its regulatory affairs committee and COLP and COFA forum.

Andrew Hedley, Director, Hedley Consulting
Andrew advises law firm leaders on issues of vision, strategy and change. Alongside project engagements, he is a sought after strategy group guide, partner retreat speaker, workshop facilitator and coach. Andrew has been admitted as a fellow of the Institute of Directors, the Strategic Planning Society, the Chartered Management Institute, Cambridge Marketing College and the Royal Society of Art. He is the author of Developing Strategic Client Relationships (2008) and Client Strategy in a Changing Legal Market (2011). Hedley Consulting is recognised as a leading boutique strategy consultancy within the legal sector.
Chris Jeffrey, Head of Small Law, Thomson Reuters UKI
As Head of SME Law Firms for Thomson Reuters Legal Solutions (UKI), Chris is responsible for the current performance and future strategic direction of the products and services provided to the SME Law Firm customer segment.Chris completed an LLB and followed this with an LLM specialising in International Commercial Law from University of Westminster. He joined Thomson Reuters as part of the acquisition of Practical Law in May 2013. Previous roles at Practical Law included various management positions, including heading up the account management function. His most recent role, prior to the acquisition, was to act as the Strategy Lead supporting the Executive Committee on the future direction of the business.
William King, Commercial and Finance Partner, Beetenson & Gibbon Solicitors
I am a graduate of Southampton law School and undertook articles with a major Yorkshire firm based in Bradford and Leeds before moving to an expanding firm in South Yorkshire and Lincolnshire. After a merger too far in my view I moved to my present practice in 1991 becoming a Partner shortly there after in the widely titled Commercial Department developing a speciality in Sports Law along the way. Taking on the development and marketing brief for the practice I was principally involved in its expansion both by work areas and geographically location within a framework based on knowing our strengths and weaknesses.
David Laud, Chief Executive, Samuel Phillips Law Firm
David Laud is the Chief Executive of Samuel Phillips Law Firm, Managing Partner of professional service marketing consultancy i2i Business Solutions LLP and MD of digital content and app development company R2b Media Ltd. Prior to joining Samuel Phillips and setting up his businesses he spent 10 years with Thomas Cook. His time with the travel company included roles as Head of Marketing in the Publishing Division and as Project Director in the Global Foreign Exchange Division was responsible for developing the money transfer brand MoneyGram. Immediately prior to entering the world of law firm management David was a member of the senior management team of US Corporation AT&T. David has two books published covering the topic of social media marketing for law firms and regularly delivers marketing workshops for the Chartered Institute of Marketing Professional Services Group. He is a fellow of the Chartered Institute of Marketing and Chartered Marketer.
Adam Makepeace, Practice Director, Tuckers Solicitors
Adam is practice director at seven partner firm, Tuckers solicitors, the country's largest criminal legal aid firm with 10 offices in and around London, Birmingham and Manchester, having previously spent four years as practice director of Duncan Lewis, the country's largest civil legal aid firm. He is currently focused on developing a core back office infrastructure that would be scalable for use by any criminal legal aid practitioner, whether as a result of organic or acquisitive growth by Tuckers or as an arms-length service supplied to other criminal defence firms.
Clive Meredith, Practice Director, Wollen Michelmore
Clive has many years' experience of management gained initially in the hospitality and charities sector. With 10 years' experience in his current role he has overseen two mergers which has resulted in the firm doubling in size having 14 partners and 115 staff, based in four local offices. As practice director he has responsibility for HR, IT, marketing and business development. Clive works closely with the firm's managing partner to oversee the strategic development of the firm.
Simon McCrum, Managing Partner, Darbys
Simon was a commercial litigation partner at Manchester law firm Pannones. He moved away from fee-earning and came to be head of commercial litigation, and on the back of management success there also became head of the construction team and the regulatory/ fraud teams, and part of the firm's management team. He was also marketing and business development partner, working with all the teams across that full-service law firm. He launched and grew in the North West the Connect2Law scheme and had the idea of then franchising that scheme to other large, hub firms in other regions. He had a dream to create a national brand in the legal services market.
In 2007 he was invited to take on the role of managing partner at one of the Connect2Law hub firms, Darbys, in Oxford. This full-service law firm was what Simon needed to be the foundations of the national brand he dreamed of.
On buying into the firm and taking over as Managing Partner in 2007 though, he not only discovered the business was in poor shape (the firm actually made a trading loss in the year he arrived) but the "credit crunch" that arrived then too brought the firm to its knees. At an accelerating pace during 2008 and 2009 the firm was rebuilt, and in 2010 the firm had its best year ever. In 2012 and again in 2013, Darbys saw top-line growth of 35%, with growth in profit ahead even of that. The firm now has a large office in Manchester too. In 2012 Darbys purchased the business of Legal Assistance Direct, a legal advice business with some 50 contracts under which legal advice is given to some 5 million members of various affinity groups.

Glynn Morris, Finance Director, Higgs & Sons
Glyn is an 'all round' Finance Director at Higgs & Sons - an energized and progressive top 200 law firm based in the West Midlands. His skills range from strategy, implementation of large scale practice management systems, management of sizeable legal finance functions through to presenting at the highest level within the legal industry having presented last year at the Novak Druce Annual PSF Conference at Oxford University. He has been shortlisted for a UK FD Award 2014 in the 'Growing Business' category and is Immediate Past President of the West Midlands Network of ACCA.
Robert Mowbray, Owner, Taylor Mowbray
Robert has worked exclusively with law firms for the last 20 years and has worked with close to 1,000 firms in 40 countries. He is a trainer and consultant who helps firms to increase profitability and improve cash flow. He was the co-author in 2013 of "COFA - The law firm finance & administration handbook". He is also the author of "Maximising the Profitability of Law Firms" and he writes the large financial benchmarking survey for NatWest each year.
Victor Olowe, Director, Winzest Consulting
Victor Olowe is a leadership consultant at Winzest Consulting, specialising in treating customers fairly and profitably. Prior to this role, he was chief executive of the Council for Licensed Conveyancers for five years. He is currently non-executive director for the Consumer Codes Approved Board established by the Trading Standards Institute. He is also a lay non-executive member of the Law Society's Conveyancing Quality Scheme Assessment Panel, the Professional Conduct Committee of the Bar Standards Board and The Property Ombudsman (TPO). Previous roles include being Head of Practice Standards at the Law Society/Solicitors Regulation Authority, Quality Manager with Pictons Solicitors and Liaison Manager at the former Legal Aid Board, now Legal Aid Agency. Victor also serves as a member of the TPO Disciplinary and Standards Committee.

Richard Palmer, Partner, Watson Burton
Richard is one of the principal owners of Watson Burton LLP - and specialises in defending professional indemnity claims on behalf of solicitors. As well as being the Firm's COLP and Complaints Partner, Richard is responsible for arranging Watson Burton's PII programme, giving him a unique overview of the professional indemnity spectrum. Richard is heavily involved in setting the strategic direction for Watson Burton, managing its risk and has overall responsibility for two of the firm's key departments. Clients praise his responsiveness and ability to understand his clients' needs.
Jenny Pelling, Business Director, CILEx Law School
Jenny Pelling read English at the University of Oxford, and then converted to law via the CPE and LPC. She was a solicitor at a City firm practising employment law, before moving into legal education. Jenny has worked for CILEx Law School since 2004, where she was made a board director in 2012. She is responsible for business development, and working with law firms to create in-house apprenticeship programmes and staff development strategies for school leavers, paralegals and qualified lawyers. Jenny is also part of the CILEx Group working on the development of higher apprenticeships from Levels 5 -7 through the government's Trailblazer scheme for law, as announced in National Apprenticeship Week in March by David Cameron.
Carl Ritson, Practice Manager, HRS Family Law
After a career within the armed forces, Carl took on a role as Contract Director within a firm and developed the company from 30 million turnover to 120 million in four years, overseeing 600 direct employees, developing overseas contracts in the Middle and Far East and Europe. He then set up his own company in 1998 which he sold to PLC client in 2004. After he became a consultant to various clients including Tesco, Harrods Stores and Aviation, Aldi Stores, Aurora Hotel Group, Tulip Hotel Group, Virgin , Sky, British Airways plus many more dealing with budgets totalling over a billion, developing business strategies including sensitive buying trends, interdepartmental and unified communications, he also dealt with contractors' litigation both arbitrational and litigant.
He joined HRS Family Law Solicitors in March 2012 as Practice Manager – in 2011 it had two offices with a turnover of 500k to date we have employed 14 more staff, opened two more offices in Birmingham and West Bromwich and our 2014 Projected turnover is 1.3 Million.

William Robins, Operations Director, Keystone Law
Keystone Law is a fast growing Top 200 law firm with a reputation for personal client service, smart use of technology and value. However, it is as a legal employer where Keystone is really making waves; Keystone's lawyers use technology to work in an agile manner supported by the firm's Central Office. As Operations Director William is responsible for Keystone's systems, processes, and compliance; ensuring they constantly evolve to meet the needs of the firm as it grows. William joined Keystone from Berwin Leighton Pasiner where he practised as a corporate lawyer.
Nagib Tharani, Director, Clio
Nagib is an entrepreneur, engineer and business leader with broad blue chip and start-up experience in Technology, Media and Telecoms. At Clio, Nagib is responsible for driving Clio's oveaseas growth, alliances and corporate development. Nagib also writes and speaks about entrepreneurship, intrapreneurship and cloud computing. He holds a degree in Electrical Engineering and Technology Management from Carleton University, Canada.
John Wade, Director, Oakview CCM
John Wade has worked in the professional and financial service sector for over thirty years. His experience includes helping law and IP firms set and implement strategic and business plans; coaching and mentoring staff and Partners into better performance and through conflicts and team-building; managing projects and process improvements; and implementing compliance based regimes.
This event is supported by: