Quill case study: Lawyers Inc. creative organisational structure embraces outsourced support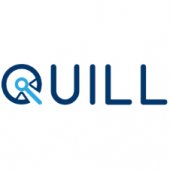 The best time to consider outsourced support is when first setting up your business. That's because business owners typically wear lots of hats. With outsourcing, however, you don't have to. Your time is more valuable doing something else – namely, running and growing your company at these crucial early stages – so bringing in an expert at the outset for time-consuming operational tasks such as payroll and accounting, allows you to start as you mean to go on.
When Lawyers Inc. established its business late 2015, that's exactly what it did. Lawyers Inc., a unique business model that enables ambitious individual lawyers, teams of lawyers and legal practices to create and grow a profitable practice under an umbrella of support, compared in-house management of these two administrative functions with the outsourcing alternative.
Jason Joyce, Financial Controller at Lawyers Inc., explains: "If we'd decided to take on the role of payroll and accounts ourselves, it would have become my responsibility. We estimated a time cost of around 2 to 3 days each month. In reality, it would have taken longer, particularly at year end. The cost to outsource was more reasonable and it means my time is devoted to higher priority tasks."
After scrutinising the market, Lawyers Inc. looked at several outsourcing providers and chose Quill Pinpoint.
"With a portfolio spanning payroll and legal accounting, we get the whole package with Quill," continues Jason. "We have one supplier for outsourcing support which is so convenient."
Quill assigns a named member of its payroll and cashiering bureau to its outsourcing clients and promises a personal, friendly service.
"We've got a really good relationship with our clerk and cashier," states Jason. "They're always available, accommodating and responsive. This is exactly the level of service we were looking for."
Over recent years, the legal industry has seen increased regulatory demands which has led to SRA Accounts Rules compliance becoming a more onerous duty. Other sectors, too, have experienced reforms relating to National Insurance contributions, PAYE reporting and workplace pensions, amongst others, which has resulted in a heavier workload and greater accountability for payroll professionals in order to adhere to the multiple statutory changes.
"Quill's compliance pledge is a big plus," concludes Jason. "Because our compliance is in hand, we can get on with doing what we do best – servicing clients and developing our business – while Quill gets on with doing what it does best – processing our payroll and legal accounts. We're able to meet strict regulatory compliance requirements without the normal pressures associated with it. It's a huge weight off our shoulders."