Keeping your clients close and your firms' bank even closer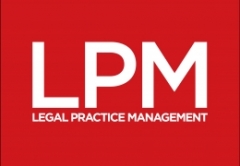 This blog post was also featured as a column in the October 2014 issue of Legal Practice Management magazine. To read the issue in full, download LPM magazine (13MB file).
---
Banking on safety
Think for a moment about this interesting and significant paradox. Banks are, or have been, in crisis. Clients want their money to be safe, and they deposit with their solicitor who has an additional duty to keep their money safe. But where do you deposit your client's money? Answer: in a bank.
Governance and risk may be high on firms' agenda, but does that include their banking relationship? Here's an example. On Thursday 21 June 2012, one of my team announced that we were suffering intermittent problems with online banking. Then suddenly, the next day, a technical problem. "Money that has gone into your account may experience a delay in appearing in the balance." For the consumer, this isn't great news. Far away in a Mexican hospital, one man was even threatened with having his life support machine stopped.
Have you thought what you would do if you lost real-time visibility of firm/client bank accounts? If over the counter paying in was not showing on statements, BACS payments had expired, or there were duplicated entries on statements?
Fortunately our bank responded brilliantly. But what if they hadn't? In the brave new world of regulation, how would you or I answer these risk management questions: Why did you choose your bank? When did you last review their stability? What's their track record on service issues? If they were poor, why did you stay?
What's the solution? Well, we've thought a lot about how to keep our client monies safe and devised a five-point methodology, which we believe is holistic in its approach.
A risk-based approach: To mitigate the risk of a single bank failure to your clients' money, might you consider regular conversations with your bank(s) about their financial stability, and also spreading your client deposits among more than one bank?
A treasury committee: We have created a treasury committee whose sole purpose is to manage risk associated with the firm's client deposits. It comprises the managing partner (COLP), finance director (COFA), a private client partner, a partner on the board of a building society and our former bank relationship manager.
Bank terms and conditions: Banks are one of the few suppliers (possible the only one) who change terms arbitrarily and unilaterally. Often terms have breaches of Solicitors Accounts Rules embedded deep within them. I strongly recommend that you read all the terms and conditions sent by your bank(s).
Handling bank failure: There is a Law Society guidance note (11 October 2011) that sets out good practice in the event of an authorised deposit-taking institution collapse. The good news is you may not be held negligent "as long as you have placed the money in accordance with the Solicitors Accounts Rules". Worth checking.
The role of banking advisers: How confident are you that your bank is applying the charging structure that you agreed and paying the interest to you? In my experience, banking advisers are a powerful and useful tool, providing you with valuable knowledge.
Having been in legal finance since 1998, I've found that banks have definitely changed during that time, even more progressively since 2008. The client-bank-firm triangle is one that's not particularly on the radar of most law firms' management currently, beyond the traditional considerations. But throw the regulator into that mix – as well as an acknowledgement of OFR and roles such as COLP and COFA – and the game may have changed.
The consequences of failing to think of and manage all the angles related to the banking relationship will have increased tenfold without many noticing.
I might end this column by rewriting the old adage, as if a law firm and the SRA were now writing it: Keep your friends close, your enemies closer, your clients even closer than your enemies – and your bank manager closest of all.