PwC law firms' survey: threats to your business growth of your firm
Buoyed by current year performance, the vast majority of UK law firms are confident about their future growth. In addition, the appetite for mergers remains very strong with a number of firms expecting a merger of some sort in the next three years.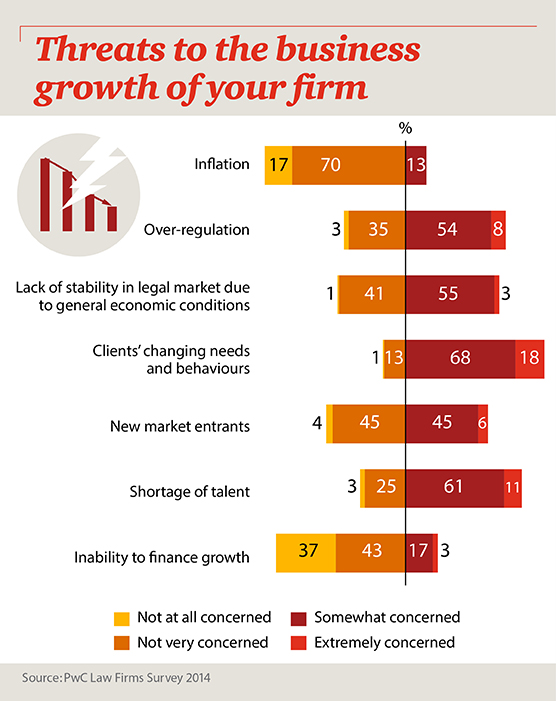 The vast majority of firms are increasingly confident of achieving growth over the next three years, with the Top 26-50 firms showing a marked increase in confidence compared to last year, despite a challenging 2013/14 for many firms in this banding.
Views regarding the prospects for the legal sector as a whole over the period to 2017 are mixed. The Top 26-50 view contrasts with the Top 25 who express a more uncertain view; 25% of Top 25 firms are still not confident of growth in the sector.
International expansion continues to be a strategic priority for all Top 50 firms, with Asia, Middle East and Africa the preferred locations.
The appetite for mergers remains strong and, as in prior years, firms consider that the buy in of the partner group and cultural alignment are critical to the success of a merger.
With a pickup in market activity, shortage of talent is an emerging concern for a number of firms, particularly given their intention to increase fee earner headcount as the economy grows. Recruitment, retention and reward strategies will be key in differentiating firms. In contrast, most firms predict continued decreases in secretaries and other support staff.