Workshare news and views letter – edition 14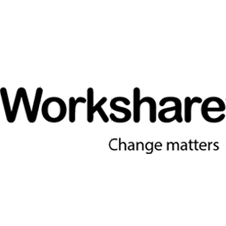 A look back over the year
Workshare is in the business of change, and heading towards the end of another year has given us cause for a little reflection. A lot can happen in 12 months, so we're casting our minds back over the year to see what's happened at Workshare:
Introducing our new CEO
Award-winning Workshare Transact
Market-leading comparison solution
A new partnership for proactive security
And we're making a wish for 2019…
Introducing our new CEO
First up, please join us in welcoming our new CEO, Michael Garrett.
Michael previously led Global Services for Micro Focus following its merger with Hewlett Packard Enterprise's software division, creating at the time the 7th largest public software company in the world. He has a wealth of experience and expertise in technology roles, including 15years at Hewlett Packard.
Workshare is in the business of change and Michael is going to lead us through our next phase of transformation and growth. You can get the full press release on Michael's appointment here.
Award-winning Workshare Transact
This year, Workshare Transact has been introduced into many law firms, including Fieldfisher, Price Sierakowski Corporate, Arntzen de Besche and Clifford Chance. The solution is helping transactional teams around the world improve deal closings by making them more efficient.
Workshare Transact provides an innovative, online alternative to the traditional closing process, which has previously been described as chaotic.
Now, a checklist can be organized in a secure workspace where all parties can collaborate and provide updates on the status of a deal. Everything progresses in an orderly fashion until the final agreements are signed. Creating the closing binder or bible is then just a few moments' work.
Earlier in November, Workshare Transact was recognized at the British Legal Technology Awards, taking runner up spot in the "Innovation in Legal Services" category. This was a great achievement for the team and our clients. The competition was fierce, and the award provides real validation for the Transact solution.
Take a look at Workshare Transact
Market-leading comparison solution
The ILTA tech survey report for 2018 is out!
The results confirm Workshare Compare, once again, is the market-leading software for document comparison. Workshare Compare retains the number one spot when it comes to the software participants' use for redlining.
Workshare Protect, part of Workshare Secure, also retained its position in the results table for software used for metadata checking and removal. Our Protect metadata cleaning solution came second only to the market-leader (who has a 25% share) with 22% of participants confirming they use Workshare.
A new partnership for proactive security
iManage and Workshare have been working together during the second half of 2018 to deliver industry-leading data loss prevention for the legal work product.
This includes ways to:
- Block emails going to the wrong people
- Stop emails that don't conform to outside counsel guidelines
- Clean sensitive or hidden metadata from files before they're shared
- Identify and neutralize internal or external security threats
There are new and sophisticated threats facing law firms all the time. It's a risk that isn't going away, so let the teams at iManage and Workshare help you control security effectively and proactively.
Latest changes to our products
Checkout the very latest updates to our products in this release blog, by Ainsley Whalen. There is information on:
- The Workshare 9.5.4 maintenance release;
- And improved metadata cleaning on PDFs.
If you have any questions, let us know - we're happy to talk anytime!
A New Year's wish
Featured in this, and in all our newsletters, is the most recent feedback from our fabulous Workshare customers. We'd love you to become one of them!
Tell us what's been happening with you this year and we can arrange to chat about how our solutions could support your strategy for 2019.
Next year will no doubt be another year of change, and that's our specialty!
Whether it's innovating in how you manage transactions; controlling the security threats that face your business; or understanding how content has changed in important files, we hope we can move into the New Year as part of your team.