Wilson Allen announces record client engagement, company growth, and team expansion at ILTACON 2019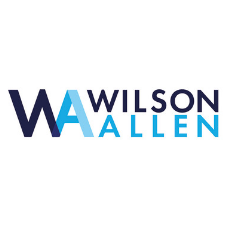 Catalyzed by 2018 strategic merger, Wilson's focus on streamlining end-to-end client life cycle management for law firms continues to resonate with a rapidly evolving industry
Newtown Square, Pa., and Orlando, Fl. (August 18, 2019) – Wilson Allen, provider of consulting services and software that enable professional services firms to enhance business performance, today announced record growth, increased demand for its software and services, and the addition of strategic personnel.
Building on its 2018 merger, which combined Wilson Legal Solutions and Stanton Allen to form Wilson Allen, the company has introduced new initiatives to better support clients. And in surveys executed by third parties, clients continue to report exceptional satisfaction.
"We have a long history of working with key people at Wilson Allen and noted last year's merger with great interest," says Anne Reavis, director of business intelligence at Womble Bond Dickinson (US) LLP. "Bruce Wilson knows a gem when he sees one —the new CRM specialist practice he's added to the organization complements the team's overall mission and creates new and interesting potential benefits for firms like ours."
Overall, in the first half of 2019, Wilson Allen has experienced sales growth that's 57% higher than in the same period, year-over-year. It attributes this success to the growing adoption of its software and services, organizational changes, and the expansion of industry partnerships and its employee base.
Software and Services Milestones:
Wilson Billing Life Cycle Management Software and Services — Wilson Proforma Tracker software, which streamlines legal bill creation, review, and collections processes, is seeing an adoption rate of approximately one client per month. Most recently, UK Top 100 law firm Bevan Brittan LLP and Am Law 50 firm Perkins Coie LLP have signed on as clients.

Further expanding its focus on the billing life cycle, the company also recently launched the Wilson Template Accelerator package for Elite 3E, which provides prebuilt templates for invoices, proformas, and billing statements. These can be implemented for firms rapidly as a fixed-fee engagement.


Wilson Practice Management System (PMS) Services — Wilson Allen's services to support firms in the enhancement of their existing financial management applications and migration to new platforms, including Elite 3E, continue to see significant market interest. In 2019, Wilson Allen commenced 15 new Elite 3E services projects, including two full end-to-end direct implementations.

Wilson Intapp Implementation and Consulting Services — Wilson Allen's specialized expertise enables firms to address critical elements of matter engagement by adopting the industry's leading solutions for business acceptance (intake and conflicts), time management, workflow management, and other areas. As a full-service provider, Wilson Allen has seen considerable growth in both the volume and scope of project engagements, as the market adopts the Intapp OnePlace industry cloud platform.

Wilson Business Intelligence Software and Services — Wilson Allen's unique combination of BI technology, implementation expertise, and advisory services are seeing strong demand, including client projects focused on data integration, enabling firms to extract even greater management value from Elite 3E and Aderant Expert software.

Organizational Milestones:
Wilson Allen has completed the integration of its CRM practice, created through its merger with Stanton Allen, aligning essential resources across the U.S., Canada, and the UK, providing specialized services like data quality, management reporting, and add-on software tools. This unique approach to CRM acceleration helps firms achieve better adoption of and returns on CRM investments, regardless of the software platform in use.

Wilson Allen leads the industry in client satisfaction, earning an overall Net Promoter Score® of "exceptional" as revealed by third-party assessment. Results include top scores and "world-class" status across several practice areas, including its CRM practice and its Wilson Proforma Tracker software.
Expansion of Industry Partnerships:
Intapp – Selected as part of Intapp's limited New Product Introduction initiative, Wilson Allen supported the successful launch and implementation of Intapp Pricing at five initial law firm clients.

Professional Services Partner Alliance (PSPA) – Created and launched by Wilson Allen and Aurora North, the PSPA works to more effectively connect law firms, accounting firms, and capital markets firms with the best technology consultants and subject-matter experts for Intapp-related project work. It presently counts three other consulting organizations as members, all of whom are committed to client-focused collaboration.

ObjectiveManager – Designed to address today's demanding client requirements, ObjectiveManager helps firms better organize, execute, and measure practitioner and staff response. As part of a new partnership agreement, Wilson Allen is offering implementation, training, and advisory services to law firms who want to improve the consistency with which they identify, execute, and track client requirements and business targets.

ClearlyRated – Focused on enabling law firms to measure client satisfaction, ClearlyRated enables firms to understand client perception better to retain existing and develop new business opportunities. With this new partnership, Wilson Allen will work with law firms to implement client assessment programs and integrate their results with business intelligence and analytics software to inform business planning and response strategy more effectively.

Team Hires:
Over the past year, Wilson Allen has made several notable hires, with team growth exceeding 25% since 2018. The company has added resources internationally to expand its capacity to execute on its client care, project management, product development, business analysis, and service delivery vision.
Wilson Allen's unique set of software and services capabilities offers significant opportunities for firms looking to improve how they execute each phase of the client engagement life cycle. Perkins Coie LLP, an international law firm based in Seattle, Wash., relies on Wilson Allen to support technology initiatives related to the implementation and customization of its PMS and CRM software and its broader data and business process objectives.
"A key challenge for law firms like ours is harnessing the power of our existing data — creating a centralized version of the truth that breaks down silos and fosters more effective collaboration across groups," says Trevor Varnes, CFO, Perkins Coie LLP. "Wilson Allen's precise understanding of law firm operations, coupled with practical skills for integrating data and processes, creates real value for our firm."
"Over the past 18 months we've made big investments to enable us to support law firms in their efforts to manage the end-to-end client life cycle better, including our merger with Stanton Allen, the expansion of our team, and the software and services we offer," says Bruce Wilson, CEO and managing director of Wilson Allen. "We are excited to see the enthusiastic response across the 700 organizations we count as customers and look forward to continuing the collaboration."
Michael Warren, VP of Wilson Allen's CRM practice and Stanton Allen founder adds, "For more than 10 years, Stanton Allen built its reputation as the go-to resource for law firms looking to advance their CRM strategy, as evidenced by our many long-standing relationships and the incredibly positive feedback we're currently receiving in our client surveys. We are poised to expand further into America and Canada with a portfolio of offerings that can help professional services firms adapt to today's business challenges."
Norm Mullock, VP of strategy for Wilson Allen adds, "Law firms have historically prioritized addressing technology and data challenges rooted in their practice management systems. But new drivers are prompting firms to think differently about their business and execute more effectively. That includes spending more time analyzing existing client relationships, requirements, and delivery approaches — all with better visibility into the profitability and efficiency of executing work. With our deep expertise, extensive firsthand experience, and strategic partnerships, Wilson Allen is an ideal partner to help firms evolve successfully into more data-driven organizations and effectively navigate the changing market landscape ahead."
Representatives from Wilson Allen will be connecting with the legal community at ILTACON 2019, taking place August 18-22, 2019 in Orlando, Fla. Michael Warren will participate in a panel session Taking Your CRM to the Next Level on Tuesday, August 20, 2019 at 1:30 PM in Asia 4 which includes speakers Patricia Purdy, Director of Business Development Technology, Orrick, Herrington & Sutcliffe LLP, Jennifer Schreck, Director of Client Intelligence, Reed Smith LLP, Linda Thompson, CRM Manager, Perkins Coie LLP, and Paul VanderMeer, Chief Knowledge Officer, Bilzin Sumberg Baena Price & Axelrod LLP. To learn more please visit https://wilsonallen.com/iltacon-2019
About Wilson Allen
Wilson Allen offers law firms and professional services organizations an unprecedented range of software, strategic consulting, and technical services for optimizing client life cycle management. Our specialized expertise helps firms break down the silos across software, data, and processes, enabling firms to build stronger relationships, work more efficiently, and run more profitably. Learn more at https://wilsonallen.com