Kofax and Workshare partner to provide Kofax Power PDF and Workshare Compare for the legal and professional services market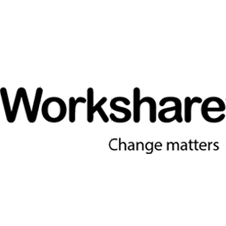 Workshare, market-leader in secure enterprise file sharing and collaboration applications, and Kofax, a leading supplier of Intelligent Automation software to digitally transform end-to-end business operations, will now offer their Comparison and PDF products in a joint solution – providing industry leading PDF document productivity in the legal and professional services market.
Kofax offers a portfolio of solutions for managing documents as part of its Intelligent Automation software platform. Kofax Power PDF is the company's innovative management software that enables workers to create, edit, secure sign and share PDF documents. Workshare Compare is the world's leading comparison technology developed to support and simplify reviewing documents. The joint solution will provide legal customers with a next-generation Word and PDF comparison experience and the ability to precisely oversee changes, improving efficiency and accuracy whilst reducing risk of error.
"Over the last few months we researched the market and we were consistently referred to Kofax as the leader in the sector with a very long heritage in the creation, editing and manipulation of PDF documents," said Barrie Hadfield, CTO at Workshare. "For the last 20 years we have been working on refining our intelligent comparison tool. We recently released our latest application 'Workshare Professional 10' with several unique features including a superior Word and PDF comparison tool. The integration with Kofax represents an exceptional evolution of our technology as we will be able now to offer customers the industry's most developed comparison tool for PDF documents."
"Our solutions are sold globally to a vast range of professionals and industries," said Kathleen Delaney, Chief Marketing Officer at Kofax. "We were looking to partner with a legal and professional services specialist that possessed industry-leading knowledge on comparison. Workshare fit that bill. Their experience spans 20 years and still leads the way. Together we can deliver the best document comparison engine, so customers can seamlessly compare PDF and Word documents with a button directly accessible in the ribbon."
"At Workshare, we keep innovating with a laser focus on solving our customers' problems, while supporting their need for speed and accuracy." Added Hadfield "By working with software partners such as Kofax, we believe we can help IT teams and users achieve value quicker."
Customers of Workshare and Kofax include Clyde & Co and Simmons & Simmons.