BigHand ride the wave of the biggest BigHand User Conference to date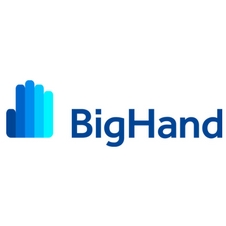 This week, BigHand, a leading software company, hosted their 13th Annual User Conference in 155 Bishopsgate London, which was attended by over 200 clients and prospects from firms and businesses of all sizes.
This year's theme was 'The Road to Operational Excellence'. Following BigHand's acquisition of DW Reporting (DWR) in April 2018, the company's vision is to provide its clients with a single platform to achieve 'Operational Excellence', via a trusted long-term partner. Yesterday's event successfully showcased the full suite of data, analytics, and workflow tools in BigHand's portfolio.
The event, which continues to grow year on year, is an opportunity for clients and prospects to hear from other clients regarding their experiences of using BigHand technology. learn about the BigHand product range, see the future product roadmap, and network with their peers. The full-day conference were sponsored by BigHand partners, Nuance, Olympus and Philips.
This year, the agenda included two customer panel sessions. The first was focused on how best to drive operational excellence and featured Alastair Mitchell, COO at Pinsent Masons, Dawn Turner, Head of Legal Support at Taylor Wessing, and Sandie Craciun, Director at the management consultancy, Konsept Services. The second session was centred on driving law firm profitability and featured Neil Demuth, Executive Director - Finance Operations at Foot Anstey, Paul Robins, Global Finance Systems Manager at Clyde & Co, and Scott McClure, Finance Director at Morton Fraser.
Dan Speed, Managing Director at BigHand comments, "The BigHand User Conference is a showcase of not only BigHand and our products, but also of our clients' work and the impressive innovation happening in the industry. We were delighted to have been joined on stage by 16 of BigHand's clients, who shared real-life experiences of running operational improvement projects, and how technology is key to underpinning those."
Briana McCrory, Group Marketing Director at BigHand, adds "BigHand is a technology partner intent on listening to its customers to provide exceptional assistance, through both technology and advice. The BigHand User Conference provides us with vital feedback that goes straight into our product development, and also provides us with the opportunity to give something back to our clients. A personal highlight of mine was when we were joined by olympian Steve Smith, who gave a highly motivational and amusing keynote speech."
BigHand will shortly be releasing dates for a series of lunch briefings across the UK and Ireland to demonstrate the products shown at the conference for those who couldn't attend on the day. For further information, please contact BigHand at enquiry@bighand.com.