The Business Instructor: One day workshop for the owners of small law firms or other professional practices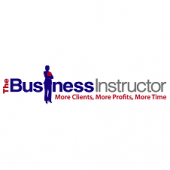 Profitable practice growth secrets: How to attract more of your ideal clients and significantly increase your profits without working more hours
If you are the owner of a solo or small law firm or other professional practice and you want to:
Attract clients rather than go out hunting for them
Have a never-ending waiting list of your ideal clients who understand the value of your services and are happy to pay your fees without quibbling
Get off the 'feast or famine' rollercoaster by attracting a consistent stream of new instructions whilst you get on with delivering your service to existing clients
Build a highly profitable practice without adding more hours to your working day
This will be the most important event you attend this year.
During this powerful 1 day workshop, you'll learn:
The 3 Essential Elements of a Profitable Practice and how to put them to work so they do the heavy lifting of growing your practice (and you don't have to work harder)
The 9 Accelerators in the Profitable Practice Model which you can install into your firm or practice – right now – to speed up your results without adding to your working hours
Specific Tools and Strategies you can implement into your practice immediately to attract more enquiries from your ideal clients and covert more enquiries into paying clients at the fees you want to charge
The Secret Formula for Profitable Growth that means you double your profits without needing to double your clients
This workshop is for senior partners, managing partners, and the owners of small legal or other professional practices.
Most business seminars are boring, mostly theory, and you don't come away with anything actionable. This is NOT that kind of seminar. You will walk away from this in-depth, hands-on workshop with a clear strategic plan to double your profits in 12 months or less.
**IMPORTANT** Due to limited space at the venue there are only a limited number of tickets available. Claim your seat now before the event is sold out.
What to expect
"We attended the Profitable Practice Secrets workshop because we wanted help in launching a new area of practice and pick up a few ideas to help boost our existing marketing efforts. As lawyers we are, I think, naturally suspicious and inherently sceptical of accepting others' ideas and buying into the possibility that we don't know what is best for our own firms. The difference with this particular workshop over others I have attended is the focus on the practical; whereas other business seminars stop at identifying problems, very few provide firms with an idea of what to do about them – we now have an extensive 'to do' list but we have also have far greater peace of mind and a roadmap of how to get to where we want to be. The insights provided went far beyond what we wanted to achieve with implications across all practice areas. We now have a clarity and confidence that was previously absent. I would challenge anyone to go along to the workshop and not come out at the end feeling that worries have been dissipated and replaced by clarity, a sense of direction and the skills to put everything into action." Adam Cresswell, Lawyer/Director, Seatons Solicitors
Who will benefit
Who is this event aimed at?
This workshop is for sole practitioner lawyers/professionals or the owners of small legal or other professional practices or senior managers who have responsibility for business development or the growth of their practice who want to build a sustainable and financially free practice.
What will I get out of this event?
This is a practical and interactive workshop, not a lecture. You will walk away from this high-level workshop with a clear strategic action plan to double your profits in 12 months or less.
Additional Information/Speakers
Where and when is it taking place?
Where: London (Clerkenwell) in a lovely, light-filled venue – no sitting in a windowless basement for the day!
When: 10am – 5pm (aim to arrive by 9:30am for coffee, registration, and networking) on several dates – check the REGISTER buttons below for dates. All refreshments and a delicious 2-course hot lunch will be provided.
Can I claim CPD?
Yes you can claim CPD for this event if you consider it meets a training need you have.
How do I reserve my seat?
£247+VAT for this one day workshop, including 2-course hot lunch and unlimited refreshments during the day. Or just £197+VAT when you book by the Early Bird booking deadline (click the REGISTER buttons below to check the deadline for that event).