Briefing 5P conference 2015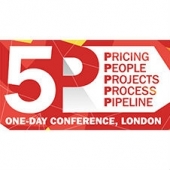 The Briefing 5P conference is going to join the dots for legal business around pipeline and delivery of legal services – connecting the activities in marketing, BD (including handling procurement), project and matter management, and service delivery innovation (including focusing on products) to form a more business-like view of how pricing, profitability and pipeline/product delivery are interdependent.
De-siloing legal starts with understanding the sales and delivery process, and how the whole business needs to work in a more joined up way to deliver more revenue, better profitability, better client service and more innovative products. That's what we're going to try to do in 5P.
This unique one-day conference is specifically aimed at large UK, European and US law firms.
If you have any queries, please call John-Paul McCarthy on 0870 112 5058 or email johnpaul@lsn.co.uk
What to expect
09.00 Registration
09.30 Welcome and opening address

09.35 Keynote address -The changing world of professional services
- Professional services in context: the changing UK and global landscape
- Creating real competitive differentiation in an increasingly congested marketplace
- Creating sustainable client relationships and maximising revenues
- Building world class account management and world class account leaders
- What does the future hold and what are the implications for professional services pricing, profitability and business models
Mike Cullen, visiting professor at Cass Business School and former global managing partner EY
10.15 PRESENTATION - Smarter Pricing, Smarter Profit; where small changes make a big difference
- How to price the work (i.e. 'Set the Price') – enhancing your pricing process and adopting appropriate pricing approaches
- How to negotiate the work (i.e. 'Get the Price') – the importance of a strong value proposition and good negotiation skills
- How to deliver the work (i.e. 'Manage to Price') – efficient delivery is critical – The key do's, don'ts and insights into project management
​- How to get better (i.e. 'Review the Price') – the value of capturing metrics to drive sustainable improvements in pricing, negotiation and processes
Stuart Dodds, director of global pricing & LPM, Baker McKenzie
11.00 Applying project management principles to legal service delivery
- Implementing proper capabilities around legal project management
- What does good practice legal project management look like within a firm
- Effective ways to launch profit improvement projects?
- Understanding what legal project management really means within a firm
- Delivering matters in a project managed way with non-lawyers leading the change process
- Embracing technology to support LPM implementation and how best to use those tools
- Making LPM a differentiator for your firm when competing for work

Stephen Allen, director of service delivery and quality, DLA Piper
James Northin, legal project manager, DLA Piper
11.45 BREAK
12.15 CASE STUDY - Developing and adapting products to deploy them in the most effective way to clients
- Developing products internally that help enhance value to clients
- Creating platforms for use across departments to improve service delivery efficiency
- Appraising and implementing service delivery products within a firm
Dan Wright, partner, service innovation, Osborne Clark
13.00 LUNCH

14.00 CASE STUDY - Use of technology to develop client relationships to enable collaboration, enhance service, create additional revenue streams and differentiate the firm
- What does good practice look like to improve the process internally and client facing
- Building and defining internal processes to enable firms to deliver on price
- Value that analysis of data can bring to a firm through demonstrating workflow
- What tools are needed to enable process? Where does a firm get the data from and how do you turn that data into leads?
David Halliwell, director of knowledge, risk and legal services, Pinsent Masons

14.25 PRESENTATION - Identification, integration, management, visualisation and analytics - the 5Ds
- How does data support the 5Ps
- Leveraging your firms primary asset - business data and beyond
- De-siloing your enterprise business information
Dan Wales, managing director, DW Reporting

14.45 PANEL - Achieving effective PMS/CRM integration and client/prospect data management
- Ways to automate and manage large volumes of clients
- Prospecting data to drive efficiencies within the business development process
- Embedding a culture of continuous improvement into a firm
- Communication tools and technology needs to create greater collaboration to support project delivery
- Understanding the principles of developing a robust pricing performance management system

David Halliwell, director of knowledge, risk and legal services, Pinsent Masons
Sachiv Mehta, director, product management and strategy, Dun & Bradstreet
Patrick Hurley, vice president, customer advocacy, Thomson Reuters Elite
Dan Wales, managing director, DW Reporting

15.30 BREAK
16.00 Joining the dots between people, pitching and pipeline breaking down silos to drive greater efficiencies
- Building agile teams tailored to the changing needs and demands of clients to effectively deliver legal services of the future
- Best practice approaches for pitching panel reviews
- Identifying and approaching new business to maintain and develop pipeline within a firm
- Creating collaboration and decision alignment through cross-functional engagement
- How can a firm be innovative in the delivery of legal services and have a unique value proposition
- Managing, growing and developing pipeline within your firm
- Effective ways to introduce new partners into client relationships to enable cross selling to extract further value

Sue Cody, global business transformation and change leadership consulting director, Cody Group
16.45 The rise of procurement and the impact that has on procuring legal services
- What influence does procurement now have on buying legal services
- How important is price and what are the quality indicators
- Exploring the quantitative and qualitative aspects of procuring legal services
- Demonstrating added value to procurement
- Understanding how procurement evaluates suppliers and how this drives their purchasing strategies
- Example of best practice auction bidding

Stacey Coote, chief executive officer, Yerra Solutions UK
17.30 Summary and close of conference followed by a networking drinks reception
Who will benefit
Relevant job titles may include directors, heads and senior managers within marketing, project management, pricing, Finance, BD and HR
Additional Information/Speakers
Stephen Allen, director of service delivery and quality, DLA Piper
Stephen is regarded internationally as a leading consultant for legal function strategy and innovation. Previously a thought leader on one of the Big fours approach to legal function innovation, Stephen is a regular presenter on the subject at global conferences. Named as one of the 50 "most courageous" innovators in the FastCase50 2013, Stephen also holds a permanent seat on the Lexis Nexis "Future of Law" strategy panel and is an expert commentator on the FT Innovative Lawyer Awards review panel. Stephen joined DLA Piper after a period with PwC where he led their legal market advisory practice - advising and delivering value-led change programs for corporate legal functions and law firms. His corporate clients included banks, global conglomerates, pharmaceutical, technology, manufacturing, construction, and utility companies. He has particular skill and experience in advising major corporates on their legal panels, having extensively consulted many of the world's leading businesses.
Stacey Coote, chief executive officer, Yerra Solutions Ltd UK
Stacey has nearly two decades of experience managing vendor relationships in large organisations including Accenture, AIG, AstraZeneca, RBS and PwC as well as a large UK law firm. Since 2001, he has been specialising in managing relationships with law firms as well as the operations of law departments. He has handled complex implementations of e-billing and matter management solutions throughout EMEA / APAC and completed numerous legal spend management projects worldwide.
Mike Cullen, visiting professor at Cass Business School and former global managing partner EY
Mike, a management consultant by background, served as global managing partner for both markets and talent for EY and was a member of the UK, EMEIA and global executive committees for over 16 years. He retired from the EY partnership in October 2014 to pursue his passion for teaching and research. For 20 years Mike has been responsible for the development of professional services marketplace and talent strategies covering audit, tax, law, consulting and corporate finance. His experience in strategy development spans the UK, EMEIA and the globalisation of professional service firms. Mike joined the global executive of EY, an $8.2 billion dollar organisation, in 2001. When he left in 2014 the organisation had passed $27 billion dollars in revenue and had over 11,000 partners and 180,000 people worldwide. In addition, the strategy to take the business to $50 billion revenue by 2020 had just been launched.
Stuart Dodds, director of global pricing and legal project management, Baker & McKenzie
Stuart is responsible for the development of Baker & McKenzie's global pricing and legal project management strategy, providing targeted pricing, negotiation and project management support to partners and client facing colleagues across their 77 offices worldwide. He is the author of the first book covering law firm pricing, negotiation and legal project management, 'Smarter Pricing: Smarter Profit', published by the American Bar Association in May 2014.
David Halliwell, director of knowledge, risk and legal services, Pinsent Masons
David helps Pinsent Masons and its clients manage risk through enhancing the efficient and effective delivery of legal services. He has overall responsibility for the development and implementation of the firm's knowledge and risk strategies. He leads the firm's in-house legal service, its professional risk management, compliance and procurement operations, and the knowledge and legal knowledge engineering teams across the firm. He is a leading member of the firm's legal transformation programme, with particular responsibility for SmartDelivery, the firm's innovative and award-winning combination of people, process and technology to deliver legal services better. David qualified and practiced as a litigation lawyer in the city of London before moving into law firm knowledge, risk and quality management at a number of national and international law firms.
Patrick Hurley, vice president, customer advocacy, Thomson Reuters Elite
Beginning his career as an administrator in a litigation law firm in California, he joined Elite in 1993 and has served various roles in product management, development and consulting. He spent four years as director of technology at Thomson Reuters in Switzerland, working on Elite's 3E Practice Management System, and is responsible for Elite's operations in EMEA. He served as the vice president of the LEDES Oversight Committee, has had various speaking engagements at conferences including the Law Firm CIO Forum, International Legal Technology Association conference, and European Law Firm Market seminar, and has authored numerous articles in publications such as Law Technology News, Briefing and MSSMart.
Sachiv Mehta, director, product management and strategy, Dun & Bradstreet
Sachiv Mehta manages Dun & Bradstreet's API (Application Programme Interface) product suite, focusing on embedding our data within sales, marketing, supply, credit and legal workflows. He is responsible for shaping Dun & Bradstreet's API strategy and next generation development. Sachiv started his career as a lawyer, moving to product development at an ecommerce start-up before joining Dun & Bradstreet in 2012. He is always looking for new ways to use data integration to help clients to grow successful business relationships.

James Northin, legal project manager, DLA Piper
James has 20 years of experience in working in professional services for some of the largest insurers and legal practices in the country, both business and consumer facing. After moving from a fee earning role into management early in his career he has focused on process improvement and operational issues in the legal market with extensive experience in volume driven work. Joining DLA Piper as a legal project manager his role is at the forefront of the integration of project management principles in the legal services arena. A non-lawyer, he is currently completing his MBA to bring additional experience and skills to the global legal project management team at DLA.
Dan Wales, managing director, DW Reporting
After leading finance systems teams plus managing numerous reporting and BI initiatives at large international law firms, Dan founded DW Reporting in 2013 to meet law firm's complex BI, reporting and financial data management needs. Dan's approach to legal BI services is to provide law firms with access to skilled resource that understands both BI best practice along with legal domain experience, to properly manage effective business change. Industry peers refer to Dan as an 'data evangelist' and 'solution innovator' in the delivery of data driven solutions, which has aided to DW Reporting's rapid growth, and assisted in the establishment of the firm being seen as the 'de-facto' provider of software agnostic data solutions within the legal sector.
Dan Wright, partner, service innovation, Osborne Clark
For 15 years Dan was a practising corporate lawyer advising on M&A and corporate finance transactions, in the UK and internationally, principally in relation to energy work. He is now using the experience of project managing large teams and deals to lead our service innovation programme. The programme has two key goals, both of which are driven by engaging with clients. First, to make sure we're responding to client demands for greater value, efficiency & certainty from their lawyers, whilst maintaining the highest quality. Secondly in helping us bring innovative ideas to the delivery of our current, and new, services.Through the use of collaborative technology, and developing legal project management tools, we are already working with a number of clients to design and implement innovative new products and delivery platforms."
This event is supported by: