Santa's Workshop chooses HighQ Collaborate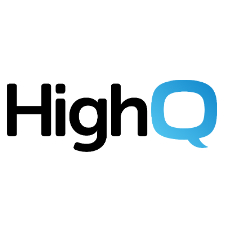 HighQ Collaborate improves claus collaboration and increases elf esteem for the North Pole's most famous enterprise.
Santa Claus, Christmas Eve Officer (CEO) at Santa's Workshop, outlines how HighQ Collaborate has improved claus collaboration and increased elf esteem for his world-renowned enterprise. With full operations based solely in the North Pole and over 526,000,000 yearly customers, Santa's Workshop is widely regarded as the most generous, kind, and committed present bearer worldwide.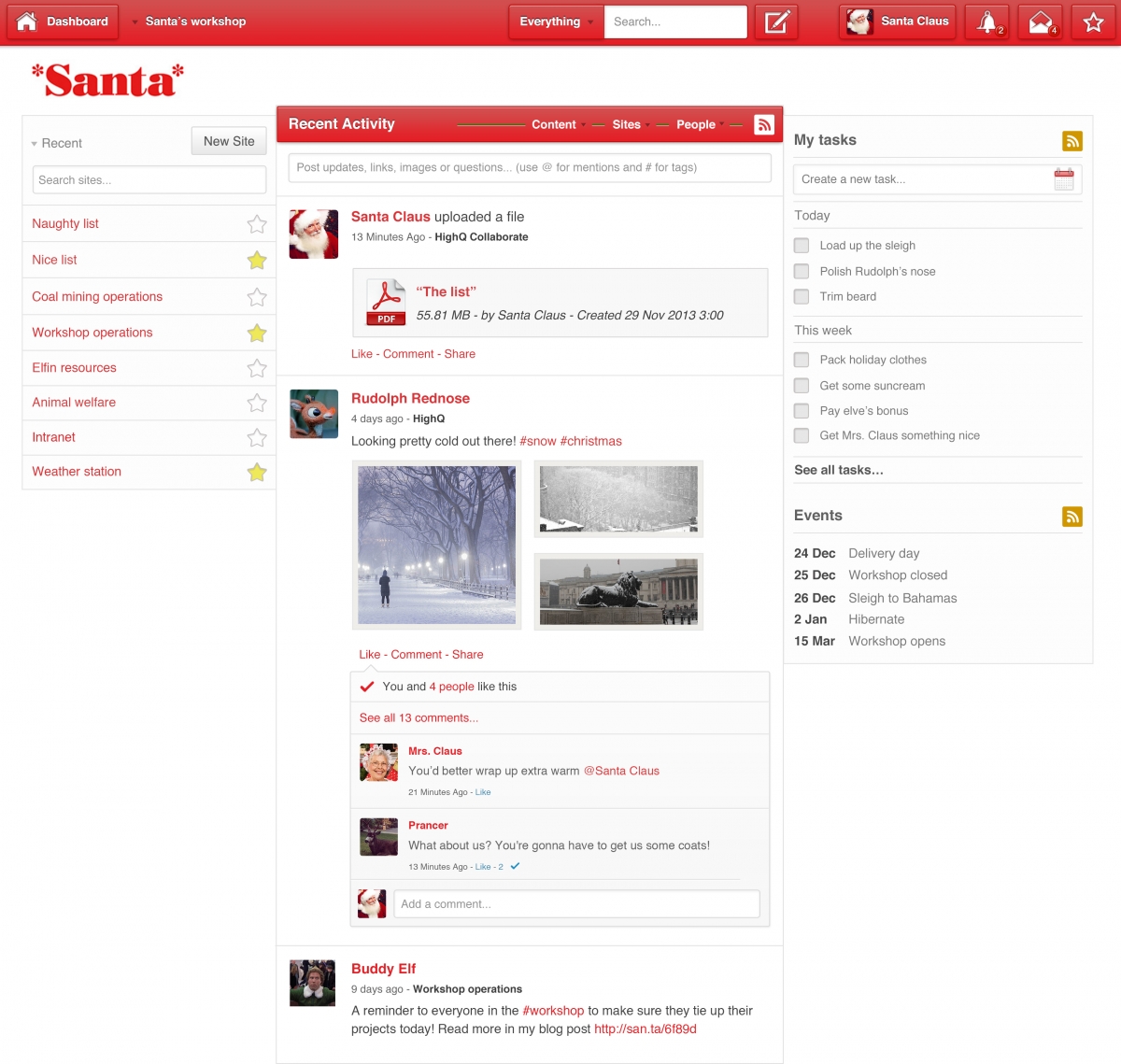 The challenge: Delivering presents to approximately 6,100 kids every second during Christmas Eve
With over 526,000,000 kids to visit within an evening, which equates to over 6,100 children every second, Santa's Workshop has never had it easy. Some time ago, Santa Claus, Christmas Eve Officer (CEO) at Santa's Workshop, started to wonder if there was a way of improving Ho Ho Hoperations: "I undoubtedly have the best job on the planet and wouldn't give it up for anything. I'm not getting any younger however, and organising the delivery of presents to over half a billion children within an evening was proving ever more challenging. We wanted to find a solution that could help us during our extremely busy month of December. Unlike most other enterprises, our workshop sees a 2,412% increase in demand and workflow during this month."
Santa Claus first heard about HighQ Collaborate through his wife and Christmas Marketing Officer (CMO), Mrs. Claus. "After arriving home early last Christmas Day, Santa mentioned how he wanted to look for a new technology solution to improve operations in the run up to Christmas," states Mrs. Claus. "As usual however, Santa fell asleep, exhausted after his travels, and didn't awake until mid-March. During his annual hibernation, I took it upon myself to look into some different providers. One night when going through some very early Christmas present lists, Rudolph's nose started to glow bright red - he suggested we look into his favourite workplace efficiency tool, HighQ Collaborate."
The solution: Implementing a claus collaboration platform for when Santa Claus is coming to town
In the first quarter of 2015, Santa's Workshop selected HighQ Collaborate. Santa Claus explained the decision to choose HighQ over other collaboration providers: "We always knew that HighQ was going to be the provider for us. Firstly, Rudolph, one of our long serving reindeers, had nothing but positive things to say about it. Along with that, it appeared no other provider was willing to tackle the modernisation of such an historical institution with one of the world's most important customer bases. Thankfully, HighQ was up to the challenge."
In the past, Santa, along with his chief Elf, Buddy, had simply scribbled their tasks and to-do lists onto a notepad. This would often bring up a number of obstacles, as Santa explains: "Buddy and I had a system for keeping track of everything, yet it was beginning to prove challenging. Buddy the Elf is probably the hardest worker you could ever find, however he would also have a habit of leaving his notes in the same pockets covered with sweets and sugary liquids. Our notes would be left in his pocket for days, and when discovered, they'd be unreadable." Buddy the Elf agreed that this was becoming a serious issue and effecting workshop operations, stating, "I love sugar!"
Implementing HighQ Collaborate in Santa's Workshop was achieved with ease, thanks in part to the relationship between HighQ staff and Santa's companions. As Mrs. Claus mentions, they hit it off right away: "HighQ knew exactly what we were hoping to achieve and had a great solution for it. The elves, reindeers and Santa all felt very comfortable transitioning their operations over to HighQ Collaborate. They deserve a santapplause for all the work they've put in to make this possible."
The result: Merry customers and a happy new year
Since implementing HighQ Collaborate, Santa's Workshop has found a great deal of success, as Santa explains: "In comparison to how we used to operate before HighQ Collaborate, business here at the North Pole has greatly improved. I've been so overjoyed that I haven't been able to stop laughing, my belly shaking like a bowl full of jelly! This is easily the most prepared I've ever felt for my Christmas Eve journey around the globe."
HighQ Collaborate has provided Santa's Workshop with numerous improvements since coming aboard: "We now have an online platform where the entire workshop is able to communicate and collaborate with each other, resulting in some major time savings and efficiencies," continues Santa. "The naughty and nice list, for instance, can now be viewed by everyone in the workshop, and anyone with permission can make edits to it. And on Christmas Eve, I'll be able to microblog updates throughout the night, so everyone back at the workshop knows how I'm getting on."
As Mrs. Claus highlights, HighQ Collaborate will also provide the workshop with peace of mind on Christmas Eve: "In years gone by, Santa would head off in his sleigh on Christmas Eve and we wouldn't hear from him until he returned early Christmas morning. Delivering presents to millions upon millions of children in one evening is snow joke, and the elves are prone to panicking and causing mass hysteria if they feel something's gone wrong. Having regular updates from Santa and Rudolph throughout the night will certainly put our minds at ease."
Conclusion: It's beginning to look a lot like Christmas
Overall, Santa Claus has seen many positive benefits from the implementation of HighQ Collaborate in Santa's Workshop. "Unlike Wizzard, we've never wished it could be Christmas every day. It's been hard enough pulling this off once a year! With HighQ Collaborate however, we now feel much more capable in bringing joy to millions of children worldwide in the most productive way possible. This will be the first year that we've used technology to improve the way we work, and I believe we'll have everything wrapped up and be back home in record time."