Industry analysis from Totum: Feeling the benefit?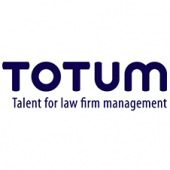 This article was also featured as an industry analysis in the February 2016 issue of Briefing. To read the issue in full, download Briefing.
Business support salaries and bonuses are on the rise. But money alone won't attract the best talent, according to Totum's 10th annual business services salary benchmarking survey. The survey of over 100 law firms, ranging from those with a turnover of over £1bn to smaller firms with turnover of less than £10m, is our most comprehensive yet. It covers the attitudes and approaches to reward across all business services functions. These are the highlights.
Salaries on the up
Improvement in the UK's economic outlook and increased optimism in the legal profession has led to firms rewarding staff accordingly.
Nearly all (99%) of firms increased business support salaries last year (with 82% predicting salary increases of 2% or more in 2016). In keeping with this positive outlook, the number of firms offering bonus schemes has increased to 90% – and nearly two-thirds of firms anticipate awarding the same bonuses, or higher, to employees in 2016.
Bonus time
Other statistics are also telling. Directors are receiving the greatest percentage bonus awards, increasing from 4-9% in 2015/2016. The maximum bonus awarded to marketing and business development directors was 30%. In HR, finance and IT the maximum was 20-23%.
At the other end of the scale, junior roles received bonuses of 3-4%, with marketing and BD once again leading the way (maximums of 14-15%). Is this perhaps because performance in marketing and BD functions is more easily linked to business returns?
Salaries by function
Finance continues to pay the most overall (in London), particularly at director level (£183,350 on average). HR and marketing directors in London are paid £141,391 and £148,834 respectively, and IT falls behind at £110,368. This may link to the fact that finance also has the highest number of equity (8%) and salaried partners (12%) of all the functions – although other business services functions aren't very far behind in reaching these highest levels of seniority.
And firms are recognising the huge value of business services generally. We've seen law firms seeking out business professionals with more specialist skills, spanning roles such as project management, business intelligence and process improvement. The survey collected data on these emerging roles for the first time this year. It found average salaries from £120,000 to £200,000, which is comparable with those across the more established business services functions. In addition, we see significant investment in standalone senior roles that don't fit neatly into a functional silo.
Other benefits
Salary sacrifice (87%) and flexible benefits (44%) continue to be widely offered to employees – both in isolation and in combination. The number of firms offering only flexible benefits has increased from 38% to 44%, and a further 20% are planning to introduce them in the future. There are clearly benefits (including cost) to giving employees greater choice.
Meanwhile, the survey shows the number of firms offering stress management, including yoga and massage, has doubled (to 34%). Most also offer private healthcare (83%) and permanent health insurance, which has increased 5% (to 70%). And firms continue to support the cost of professional qualifications (87%). There has been a very marked increase in firms offering executive coaching, from 3% in 2013/14 to 22% this year.
This marries up with other data from the report showing that directors and executives are being rewarded with both financial and non-financial incentives. It may also link to an increase in the number of employees recruited for their comparable (but different) skillsets from outside the legal profession – people who may need additional support to adapt to cultural change.
Flexibility working?
But there are also signs of cost cutting, as overtime drops by 20% (to 48%), its lowest level in three years. Instead, there is a marked rise in the after-hours travel allowance (43%, up from 25%). Organisations are, perhaps, trying to manage resources and productivity while also keeping costs down.
But it may also lead to questions raised about how far law firms are really addressing employee needs. Flexitime, for instance, remains highly popular. More than half (57%) of staff are taking it up this year, compared to 34% in 2013/14. But that's only among firms that offer it. Most firms (75%) still don't.
The survey data doesn't cover the many informal flexible working arrangements that may be in place with individual managers. But some might, perhaps, wonder whether more stress management tools are really adequate compensation for cutting overtime and not implementing formal and firm-wide flexible working arrangements.
Nevertheless, there's a mood of optimism among firms, as well as new developments. There are more equity and salaried partners leading business services functions, and firms are investing more in emerging and specialist roles. But the survey also suggests firms need to be careful. Competitive salaries have always enabled law firms to attract and retain employees. It is good, therefore, to see them on the rise.
But firms are also now competing for more, and newer, skills, with other industries, some of which have long put employee wellbeing and engagement higher as a priority.
Firms that prove their willingness to understand and address changing employee requirements may well be the ones that are most successful in attracting the breadth of business talent they now need to thrive.