Cascade's CIPD HR Software Show 2018 highlights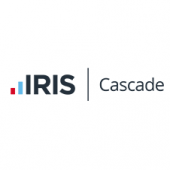 Thursday 14th June 2018 didn't just mark the close of another successful CIPD HR Software Show – it also signalled the end of an era. We enjoyed the final HRSS as we know it, ahead of the expo changing to become the Festival of Work event at Olympia London next year. But before we look too far into the future at what's to come, in this blog we reflect on Cascade's five biggest HRSS highlights…
Knowledge is power
For the first time at the HR Software Show, Cascade delivered two advice-led seminars in the technology and software hub.
The first, despite being allocated to one of the most difficult time slots of the exhibition (09:30 on day one), was a 'sell out'. HR professionals attended in their masses to listen to 'Start your HRSS visit here: Finding HR software that will support your growth', presented by CascadeGo's sales consultant Elaine Perrins. But the session was far from sales-led. Instead – building on the content of a CIPD blog penned by our very own Marc Greggains – the seminar offered delegates some key hints and tips as to what to look for in their HR technology.
Our client Catrin Gaston-Penny – Head of HR at the Cell & Gene Therapy Catapult – continued with the theme on day two. 'Finding an HR system that fits you' urged HR professionals not to be bamboozled by sales pitches that steer them away from what they set out to invest in. She insisted that by selecting the right technology, which can evolve alongside a business as it grows, there is no need to make any compromises to suit the rigidity of a product. This seminar was even more popular than the first, with delegates standing in the aisles and craning their necks to hear her advice. As questions flooded in from the audience at the end, anecdotal feedback from CIPD colleagues suggested that this was the most engaged presentation of the entire event.
If you missed it, catch up with the presentation in full, here.
We launched Expenses+
It was over six months in the making, but on day one of the HR Software Show we revealed the launch of Expenses+, powered in collaboration with expenses management specialist Selenity.
The cloud-based technology has been purposefully released to reduce companies' expenses spend by up to 20%, improve efficiencies by as much as 80%, and ensure maximum policy and HMRC compliance.
This isn't our only expenses functionality of course - there are already effective entry-level capabilities within both our Cascade and CascadeGo products. But Expenses+ has been launched in response to the evolving requirements of customers and the wider market. Our product director Paul Sparkes commented: "We're passionate about delivering best-in-class technology so, because our fundamental specialism is core HR, we approached Selenity to harness their market-leading expenses expertise. We're delighted with the result and early indications from the HR Software Show suggest HR and payroll professionals are also excited about what the partnership means."
If anyone missed this announcement, please contact us for more information!
Delegates stressed their commitment to tackling… stress!
Hot on the heels of Cascade's latest industry research, we produced 'The stress management checklist' which was given away at the show.
Research revealed that stress has grown to become a 'way of life' for 4 out of 5 UK workers. But with an undeniable link between chronic stress and mental ill-health, HR professionals need to act NOW to protect the wellbeing of their workforces. We therefore compiled a short list of actionable tips to promote greater conversation surrounding mental wellness, reduce stress levels within the workplace and mitigate the cost of stress-related absences.
The free resource was a hit with visitors to our stands, and if you missed your copy, you can download it here. The Stress Report 2018 is also available to read in full via our website.
Both stands were packed!
Cascade and CascadeGo welcomed hundreds of HR professionals to both stands, evidencing the interest in HR software for businesses of all shapes and sizes. A HR consultant at the show commented that the market is shifting towards systems that cater only for larger organisations, but with different modular solutions in our suite, we can support ambitious clients with 2 employees or over 10,000.
There's more to HR software than technology!
It may sound like an odd statement to make but HR professionals at the show weren't just quizzing vendors on their system capabilities. Time and again project implementation approaches, support services and organisational culture were among the key themes delegates were enquiring about.
These questions didn't come as a shock to us – they're 'deciding factors' that prospective clients ask about all the time. People like to work with people, and core to the successful implementation and optimum onward usage of any system, is the team behind the tech.
That's why there's an open-door policy at our HQ, so that organisations can see for themselves exactly what makes Cascade tick, and how our services keep clients as happy as our system.