The Briefing Interview: Andrew McEachern, global people and development director, Norton Rose Fulbright

This article was first published in: the HR issue of Briefing magazine, May 2014.
Download the digital copy of the magazine.
---
Change culture
Norton Rose Fulbright's global people and development director Andrew McEachern talks growth, culture and change on a global scale – and why the challenge of firm-wide unity brings profits to everyone.
Andrew McEachern has a big task on his hands. As global director of people and development at Norton Rose Fulbright, one of the world's biggest law firms and one of the biggest verein firms around, NRF (not an approved abbreviation) is a top-tier firm and fairly enormous by legal standards: over 7,300 people worldwide, revenues of not far off a billion pounds.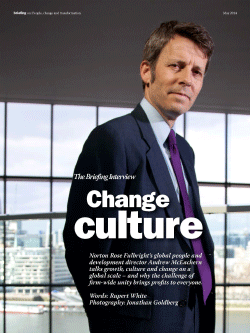 McEachern cut his teeth as a lawyer in private practice before going in-house at Shell in the nineties. He wound up Shell's head of legal for north-east Asia, and then made the jump to banking in 2000 – spending nine years at Goldman Sachs. He left Goldman Sachs not long after the dark days of the credit crunch and crash, roughly the same time as Rolling Stone writer Matt Taibbi dubbed his then employer "a great vampire squid wrapped around the face of humanity". It was probably a good time to leave. Working for lawyers again must, by comparison, have seemed a positively popularist move.
Heading HR in a global business formed from a structure like a verein requires some special thinking, and hard goals of community, sharing, collaboration and communication. It's about creating and fostering a culture in a distributed business. This can show itself in many ways – from a 150-person charity cycle ride in Texas that the whole business is involved in fundraising for, to 1,200-partner conferences.
There are many ways to achieve this, says McEachern, like building networks within business services and across teams that do the same sorts of work in fee earning. "Having people talk with each other to solve a problem is a fantastic way of building relationships. Culture was the number one priority in terms of putting all of the firms together to make the global practice – and it was refreshing for me that the culture imperative was so prominent, because in the corporate world of mergers and acquisitions, culture is rarely a big driver [in change]. As a result, many – if not most – mergers and combinations fail."
NRF has tried to pick firms to bring into the fold that match its culture, says McEachern, for this reason. Taking on lots of firms that are highly dissimilar to the vision of the future business is asking for trouble, he says, especially for people management.
"Any number of law firms are looking round to combine, and some of those are distressed acquisitions or distressed combinations, and I think that will prove to be very difficult on the people side of things."
When Norton Rose (as was) set out on its mission to grow through M&A, says McEachern, it organically grew its understanding of the 'rules' of becoming the firm it is now. Every firm brought into the verein needed to match the global firm's 'business principles' and come up to the high quality bar set. More rules were developed as more firms were pulled in.
The firm wants people to feel part of "a single firm with a common culture, so unity was key". McEachern also says that it was really important to make new firm people feel they'd be valued in the absorbing business. So, whenever a firm is merged, it's vital to make it clear the value NRF puts on its people.
"The best way to do it is to get people together, and to make sure that people are moved around the group as much as possible. Mobility at all levels in all parts of the firm really assists with the embedding and sharing of the culture."
NRF is determined to stick to a "one leadership, one strategy" approach, he says. "It's something that we talk about a lot, and embed in all of our training programmes. You have to take every opportunity you can to embed that. You can write out a set of business principles, but if they're not lived, they're for nothing.
"To the same extent, writing down who we are and what we do is less effective than talking about it and sharing the experiences. Storytelling is a very powerful way of sharing culture."
It's still early days for the current incarnation of NRF, says McEachern – Fulbright only came on board in June 2013, which was "the last big piece of the jigsaw". The challenge for the last three or four years, he says, has been to put the international practice together – the challenge of the next few years is going to be to be making it work.
McEachern says the tie-up with Fulbright & Jaworski, because it was based in Texas, not New York (for example), and had a sizeable international business, was a better fit than a more home market-focused East Coast firm. "The Texans are good listeners. They're very secure in their legal market and I think more like the rest of the Norton Rose folks. The top New York firms, I suspect, just aren't interested in combining with anybody else. They're comfortable with the business model they have." The US practice has embraced very quickly the concepts of national practice heads and team leaders "to help focus the business to be looking more broadly", says McEachern.
Problems of scale
As the biggest firms get bigger and more global, the world around them is changing. How will those in charge of the people side of legal business cope – and succeed – in firms that could have 15,000 or more staff?
"It will be really interesting to see how the legal market evolves over the next three to five years. The big four accountancy firms were created because the clients actually demanded it – they had to have, or they wanted to have, the same auditor in each of the locations where they had a presence. Law firms don't have that imperative, so I don't think law firms will get to the size that those guys have." This is partly because, he says, consulting and accounting firms have a wider variety of offerings than law firms – but is that true? Most of the biggest firms mainly, arguably, do consulting with some law at the centre. Why can't they get really big?
McEachern agrees that, even if the biggest firms don't get as big as KPMG or PwC, things have to give – and one of those things is how many partners a firm should have.
"In terms of the overall size, managing numbers that size is a huge [challenge]. The partnership structure is a strong and useful one, [but] I think the PwC model, with multiple associate directors and managing directors and all sorts of levels underneath, may come in [to the sector]. [But] it doesn't feel as though anybody is rushing towards that.
"Do law firms have too many partners? I'm not sure that they do. [But] inevitably I suspect the numbers of partners in the legal sector probably will come down in the next five or so years."
With fewer partners comes a more corporate career path. The big challenge behind that, of course, lies in incentivising people who might previously have worked for the carrot that is equity partnership.
But a bigger challenge may be for firms that want to stay with the old partner-focused firm model, because in a global firm it might be holding the business back. Future leaders now tend to follow partners in their path to success – but global professional services businesses such as accountants and consulting firms need to move people around a lot more than law firms. That's an inherent tension in the standard partnership-route firm: to 'stir the pot', you need to move people around globally – but if your best people are stuck to partners' chairs to get promoted, you can't move them.
"It is a problem and a challenge, and one that we are working on in terms of how we can encourage more mobility of people around the firm. Lawyers are, as a breed, somewhat risk averse and very many of them view their careers very cautiously." McEachern, in typical lawyer fashion, says he "doesn't disagree" that some lawyers will think that taking them out of their established place for two or so years in the second half of their run into partnership is not going to help them, because "they'll bring world experience back but [they fear that they're] unlikely to be able to bring
clients back, and that's what they want to be focusing on".
Stirring the pot
NRF is looking hard at how to "develop an international mobility programme, where we ask people to go to other locations with a view to building their careers so that, when they come back, they're better for it" and, one assumes, not robbed of their future as they see it.
This might be helped by the fact that more lawyers than ever don't want the old goals, but there's still no shortage of people who want to become partners, says McEachern.
"I think the main difference, if you look at the law versus the accountancy firm model, is that there are fewer options for a partner who is specialised in one area to move than there are for accountancy firms. The accountancy firms seem much better at moving partners either from one sector to the next, or from one geography to the next.
"It's easier to argue that, as a consultant, your skill set is more transferable than if you're a banking partner. It's a challenge. That might sound a little defeatist but I have thought long and hard about why it is that we seem to have less flexibility."
Following his experience at Goldman Sachs, McEachern contends that even in banking it can be easier to 'stir the pot' inside the business than it is in legal. "Goldman was certainly able to move people around, and did whether or not they really wanted to. My previous career to Goldman was within Shell, and certainly mobility in Shell was hugely important. When I was there, there was something like 5,000 ex-pats around the world and they viewed that as key from both a cultural point of view but also for getting best practice shared around the world.
"Is it harder to move lawyers than bankers? Not sure, but if you're a currency trader in London you could do it in New York or in Singapore."
Change and transformation
McEachern, and those in similar positions, have over recent years had to become experts in change and transformation. And though NRF is causing transformation in other firms through competitive pressure, it's also constantly going through change itself.
Neither can it be immune to threats from a changing competitive backdrop. The big international firms may become enormous over the next few years – 2020 might bring a Baker & McKenzie with 20,000-plus people, a PwC legal business the size of CMS or larger, or another super-massive merger-rigged firm heaving into view. NRF
must continue to adapt to survive and thrive.
"In the short to medium-term, [businesses like PwC] are the big threat. The accountancy firms piled into the legal sector [years ago] but probably as a result of Anderson Legal and Enron and so on, that sort of halted. But now they're piling back in, they're very serious and they've got deep pockets."
These and other pressures will drive firms like NRF will have to look in the mirror as the legal market is remade over the next decade. "The change to the legal sector in the next five to 10 years will be of a scale unseen before in the profession, and law firms are realising that the world is never going to go back to the high days of 2007. So we're looking at our business model [for the future], such as where and how we advise our clients, what they need and what business might disappear.
"Some firms have their heads in the sand, and lawyers can be world-class resisters of change – though some partners absolutely get that the world is rapidly changing." Lawyers' natural cynicism also doesn't help them react rapidly to change, says McEachern. But NRF is facing into the wind – because it has to. McEachern says NRF has taken on a new COO for Europe, Middle East and Asia from outside the legal sector to carry out a root and branch review of how those regions work.
Something else holding law firms back from faster change is, once again,
partnership structure, he says. Because a partner's fiscal interest evaporates once she leaves the firm, unlike company shareholders, partners are pulled towards thinking only about the nearer term. But a longer vision is needed to appreciate some of the true threats in the market.
"Everybody should be [analysing] the short-term threats, the longer-term threats, what technology is going to do to us and how much of the business we're in is likely to be automated, or can be done by somebody else in a different place, in a much cheaper way?"
This will mean adjusting who works for the firm and how they work. From remixing the ratio of business services and lawyers to changing the number of trainees and paralegals in the firm, from deciding on outsourcing to working out where to put business services support – it's all up for grabs, says McEachern.
For now, NRF isn't keen on outsourcing, says McEachern. "Norton Rose Fulbright is one of the few major firms which hasn't gone down the offshoring route," he says, but now the firm's merger mania is turning into consolidation, it will need to look to the best way to structure the business in terms of efficiency.
Law firms also need more business services people from outside legal, says McEachern. "It's really important to bring new blood into the sector. There was a time when people in legal business services would just move from one firm to the next, and that wasn't necessarily enriching the gene pool. Now bringing people in from outside of professional services is happening. Part of my role is to identify where the gaps are [in the firm] and help bring in people from outside – and we're hoping that that will benefit the organisation."
Merger seems to be the hardest word
Merging, especially in the verein world that NRF lives in, can be a tough marriage. McEachern says he's learned a lot from the mergers NRF has done – and it's done plenty – but the lessons mainly reduce to not trying to tell merging firms how to work, and instead finding ways to convince them that a big business like NRF can provide them with things they couldn't otherwise afford or haven't invested in, such as advanced skills development and training. Of course, the horses need to come to the water, so there needs to be lots of encouragement.
One of the big problems of a merged firm is consistency, especially in a global business. All the firms under the NRF umbrella have adopted the firm's 'international academy programme', says McEachern, which is a huge driver for consistency. "We can say to GCs in our biggest clients, who do worry about consistency of the big firms around the world, that we're working towards every associate or attorney having a defined set of competencies they are expected to have as they progress through the ranks, and underpinning all of that is the common training programme."
Career and capability consistency across the businesses inside NRF, or "alignment", is the big push for McEachern over the next three years, he says. This isn't always easy with a business spread across the globe – just handling communication across the time zones can be very difficult – and in a firm made up of mergers it's especially hard.
"You can also be separated by a common language, so you need to recognise that the way we communicate and the way people respond to things is very different [across the business]. When I joined the legacy Norton Rose it was reasonably international, but the way different parts of the world, South Africa and Australia and the US and Canada respond, is very different. It's about not getting frustrated, and recognising that not everyone works like you."
But this alignment is also about some very simple, very important outcomes. Bringing people into a community and getting them to communicate across a business the size of NRF is a challenge, but it's vital to get people across the firm to work together outside their 'old' cliques and alliances, because future revenue lies in the latent ties and cross-selling that can be leveraged in the new, larger business.
"Our biggest client opportunities are within our own firm. There are 1,200-plus partners in the organisation. The work is there. It's a case of how can we unlock it, how we tap it."
Words: Rupert White. Photography: Jonathan Goldberg