Dial L for legal jobs: unlock your career
Cogence Search, a leading London legal recruitment agency, has been the source of some interesting content of late. This has included hard hitting results from legal market surveys such as 'The Leaky Pipeline: Gender and Progression in the Legal Profession" and "The Future of Law: Brave New World", as well as opinion pieces that have been picked up by leading legal press, such as Mark Husband's piece on the state of the UK judiciary.
On 17 June 2016 the London legal recruitment company quietly unveiled a new look to their website that includes a novel, and dare it be said, fun approach to legal job search.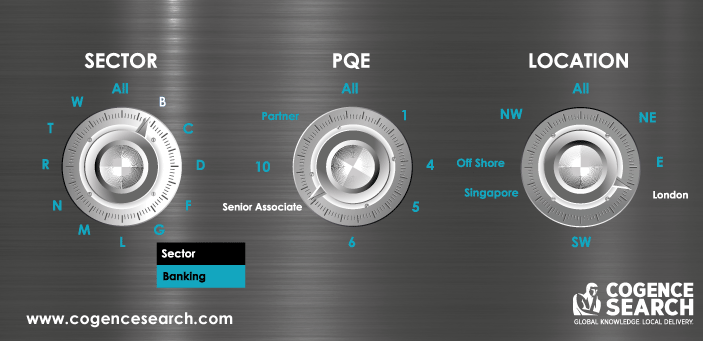 Land on Cogence Search's home page and you will find three dials of the variety found on a traditional safe. Each dial represents a fluid search facility, drawing its categorisation from available job titles, years of post‐ qualification experience, and location, respectively. Cogence invites you to have a 'twiddle' and create your own code to crack the next stage of your legal career. Of course, for those who feel twiddling is tantamount to unnecessarily fiddling, there is a traditional drop down search bar directly underneath the dials.
"It's a clever piece of coding," says Mark Husband, Managing Director. "The dials are fluid and intuitive, picking up every job title, PQE figure and location that we enter onto our recruitment management software, Broadbean. The dials only present the initials of jobs that are live, so if there are no Banking roles, for example, you won't find the letter B associated with the first dial.
I had the idea for the dials a while ago, when we were thinking of ways in which to 'engage with our audience', as marketing managers are fond of saying. Cogence Search is a niche legal search firm, only recruiting and headhunting for private practice roles ‐comparatively speaking, our target audience is not that large. We also have a strong emphasis on partner and lateral hires. We had to think carefully about the IQ of any gimmicks. Does a Silver Circle senior associate really have time to fill in endless data capture forms? We didn't think so. Thanks to our web developers and designers, The Paperface, who created the coding and enabled the interface to work on just about every conceivable device, the dials became a reality. We think they, together with our clean, precise, new look, fulfil pretty much all our audiences' requirements for engagement."