Briefing magazine case study: Taking the HR power back

This sponsored article was first published in: the HR issue of Briefing magazine, May 2014.
Download the digital copy of the magazine.
___
Bhagvanti Hirani, HR systems manager at Holman Fenwick Willan, talks to Briefing about delivering flexibility, independence from IT and self-service capability with Access SelectHR
Law firm HR people should be just as much a strategic asset as the fee earners and other business services people they work with. Most of the time, though, HR people are bogged down in transactional processes, not more useful or strategic work.
When Bhagvanti Hirani joined Holman Fenwick Willan as HR systems manager, her goal was to improve the performance and effectiveness of HR processes. The outcomes of those improvements were purely strategic: increase efficiency and flexibility, reduce cost, and achieve an independence from IT support. Poor or inefficient HR processes also have direct operational downsides for legal business – they can create inefficiencies and blockages in other departments.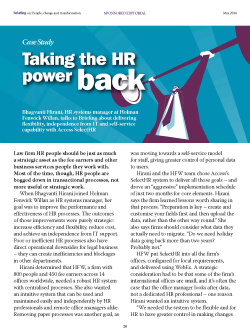 Hirani determined that HFW, a firm with 800 people and 450 fee earners across 14 offices worldwide, needed a robust HR system with centralised processes. She also wanted an intuitive system that can be used and maintained easily and independently by HR professionals and remote office managers alike. Removing paper processes was another goal, as was moving towards a self-service model for staff, giving greater control of personal data to users.
Hirani and the HFW team chose Access's SelectHR system to deliver all those goals – and drove an "aggressive" implementation schedule of just two months for core elements. Hirani says the firm learned lessons worth sharing in that process. "Preparation is key – create and customise your fields first and then upload the data, rather than the other way round." She also says firms should consider what data they actually need to migrate. "Do we need holiday data going back more than two years? Probably not."
HFW put SelectHR into all the firm's offices, configured for local requirements, and delivered using WebEx. A strategic consideration had to be that some of the firm's international offices are small, and it's often the case that the office manager looks after data, not a dedicated HR professional – one reason Hirani wanted an intuitive system.
"We needed the system to be flexible and for HR to have greater control in making changes themselves as business needs dictate, without IT support." Not needing technical support to manage and maintain SelectHR is a big win for both HR and IT, she says, because in a fight for IT's time, HR might come behind other stakeholders. Hirani says the firm hasn't relied on consultancy time since not long after it was installed. The user-friendly admin tool has meant system changes have been instant.
HFW can now capture personal data, carry out absence and career history management, and manage contractual change maintenance in a more process-oriented way. "They are fixed processes, and all users can maintain the data. We now have a complete data flow from joining to leavers – the full cycle."
This is also helping with the firm's compliance for SRA reporting. "For diversity statistics, for example, we are capturing and reporting on the right information," says Hirani. The firm is now about to go live with the health and safety module, creating "an online accident recording book", part of a much wider move to self-service HR.
"Given HFW's existing culture," she says, "we decided to roll out self-service in stages, rather than have a big bang." But six months after starting down the self-service road, the firm is now live with 350 users for key elements of self-service in the UK: managing personal data and various absences online.
"It's true employee self-service, amending data with workflows that fire off [information] to payroll, for example. We've also provided access for finance and IT to certain areas of the system and reports, ensuring people data changes are updated in a timely manner across various systems."
The firm is also using self-service within training to capture and expose CPD data for qualified lawyers in England and Wales. Those users can view current and historical CPD years and print their own records. Hirani says feedback around self-service has been quiet, and silence is golden when it comes to change. "In a law firm, that's a good sign – you hear more when there's an issue." Her plan for the rest of 2014 is to focus on international offices, to remove the paper admin that comes with HR processes, and to roll out international self-service, including capturing CPD for Hong Kong and French qualified lawyers.
Despite making immediate cost savings over the previous HR system, the big benefits in turning to SelectHR for HFW have come from time saving and efficiency in the business.
"Just reporting on headcount would have taken half a day before – now with one click we have standardised reports." Hirani also says the firm's made time savings in admin for salary reviews, holidays – and, more important for long-term thinking, data is consistent across the firm.
"If someone is on secondment or maternity leave, SelectHR has enabled HR and finance to standardise the way they are treated. HR and finance reports are now in alignment." Admin time savings also mean that HFW's lean HR team of just eight people can focus on more strategic HR, where before they were involved in transactional work. Entering holidays or address changes was not an effective use of HR's time, she says.
"SelectHR has provided greater control in how we shape our HR system to meet our needs now and in the future," says Hirani. Better reporting and self-service has already delivered significant efficiency and financial benefit, and Hirani's five-year view shows "the benefits will just keep coming".