Quill represents responsible employers at Westminster review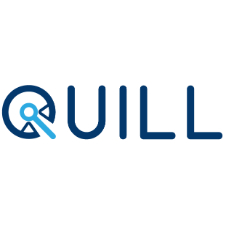 Earlier this year, Quill Pinpoint won 'Employer of the Year' at the Multiple Sclerosis Society Awards 2016 in reward for its ongoing support for a long-serving employee with MS, Sue, and in recognition of our mega fundraising efforts for the charity.
Because Quill's successfully demonstrated its willingness to help Sue throughout her 25 years in employment by adapting the environment, reducing her working hours and easing her workload, as well as finding and securing additional funding including the Access to Work scheme which covers Sue's transport costs to the office, Quill's earned its status as responsible employers.
However, it seems that many employers neglect to cater for staff with illnesses or disabilities in the same way. In fact, the MS Society claims that, according to recent survey results, a quarter of the people interviewed said they'd given up their job within a year of diagnosis while another 26% said they'd stopped working within three years.
That's why Quill was invited by the All Party Parliamentary Group for MS, a formal group of MPs and peers with an interest in MS and policy issues which affect the MS community, to attend a Westminster review of employment support policies.
During the session, Sue presented her argument on how to balance an MS diagnosis with a career. Later, Quill's Chairman, Tony Landes, and HR Manager, Sarah Duggan, discussed the adjustments made to the physical environment, Sue's contractual details and company culture. Evidence gathered in the review (and two previous sessions) will form the basis of a report to be launched in the autumn. Its ultimate aim is to reform policies to enable people with MS to access and remain in employment.
Sue comments: "I've worked in the company now for 25 years and they've been good to me. As my fatigue has increased, I've reduced my hours and responsibilities accordingly. Initially I stepped down as the manager of the department and then last year I reduced to 3 days a week. I enjoy working as it gives me a reason to get up in the morning and I take pride in my work. I don't think I could ever be somebody who does nothing all day. I would probably dwell on my MS and become very negative and very lazy. I can't overemphasise the benefits of working for me as a disabled person. I'm a great believer in having a positive mental attitude and not seeing myself as a victim."
Bethany Robertson, MS Society spokesperson, states: "As the MS Society Awards 2016 winner for best employer, we were delighted that Quill Pinpoint and Sue were able to present their experiences to the All Party Parliamentary Group for MS as part of its review into employment.
"We were impressed by Sue, Sarah and Tony's presentations on Quill's inclusive working environment. By consulting their employee and implementing her suggested adaptations, Quill has enabled Sue to continue working at the company for 25 years. Their input was highly informative and valuable to the parliamentarians on the group.
"The MS Society look forward to the recommendations of the APPG and hope that Quill's practices will inspire other employers to make the changes appropriate to supporting their employees with MS."
Sarah Duggan explains: "Over the 25 years Sue has been employed with Quill, we've always tried to accommodate her changing needs throughout the various stages of MS.
"As an employer, we're aware of our responsibilities under the Equality Act 2010 which require us to make 'reasonable adjustments' to avoid Sue being put at a disadvantage compared to non-disabled people in the office. However, the main motivation for our ongoing support of Sue is that we value her as an employee, appreciate the skills she brings to the workplace, respect her as an individual and want to retain her employment for the long term.
"Our advice to other employers is this: Try not to focus on a person having a disability and look more at the person's skills and what they can bring to your company. Making adaptations can be easier than people think and often it's the small changes that make the biggest difference in someone being able to continue to work. For us, this ongoing support comes naturally. It doesn't feel like an obligation. With this more positive mindset, accommodating people with disabilities is easy."