DX dazzles with a 5-star prize giveaway to the Connect4Community winner, Rahul Shah from Kennedy's Law

Legal Support Network (LSN) made its mark on 2019 with its Connect4Community: London networking event, held at The Folly on Monday 11 March. LSN welcomed over 230 guests to its March event, designed to help connect professionals in the legal community and it continues to engage attendees with original ways of making networking less daunting and more fun.
LSN's Connect4Community: London networking event once again showed the legal community that Legal Support Network is the glue between all business services roles and vendors alike. With an evening full of great activities, it's no surprise that over 190 legal business professionals from over 72 law firms and 41 networkpartner guests joined our supporters, DX, Accesspoint Legal Services, Pulsant and Thomson Reuters, for the biggest networking event of its kind in the UK.
With our law firm guests in mind, our dedicated sponsors helped hundreds of professionals connect and collaborate in a valuable way with their activities and areas. The Folly was full of life, with DX's cheese and wine pantry, Accesspoint's roulette wheel, Pulsant's escape game and Thomson Reuters' virtual reality: walk the plank.
Plenty of prizes were up for grabs on Monday evening but the night's main prize was afternoon tea for two at the 5* Shangri-La Hotel and a view from The Shard, from DX. Rahul Shah, financial systems developer at Kennedys Law was the lucky winner – he was joined by Addy Gurung, product and marketing executive and LSN's very own community manager, Tracey Poulson, who presented him with the prize last Friday at the Kennedys Law offices.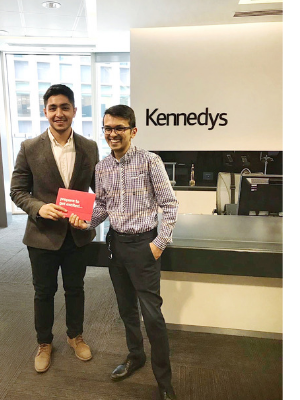 "Well, how lucky am I? I attended my first LSN networking event on Monday 11 March and was met by not only a fantastic, fun environment but also four activities for me to get involved with. I had lots of great chats with peers – the coloured lanyards were great because I could network with professionals who work for other firms in my sector and discuss common challenges. The great thing is you can pop along after work for some drinks and food, and what's even better is that I was lucky enough to win the DX prize of 'A view from The Shard' and afternoon tea for two at the 5* Shangri La Hotel – thanks DX Group"
"You really must attend to understand how great the night is and I can't wait for the July event.". Rahul commented.
Congratulations, Rahul!
Alongside the networking event, LSN ran a social media competition – 'Battle of the Law firms', which highlighted firms with the most registrations. With a bottle of bubbly up for grabs, the competition saw Leigh Day lead the way with registrations – but were they in with the most attendances on the night? We can reveal that the firm with the most attendees was Freshfields Bruckhaus Deringer, with 11 law firm professionals networking the night away. The lucky Freshfields Bruckhaus Deringer attendee who has won a bottle of bubbly is Pamela Waterman, project manager.

Connect4Community will return to London in July 2019. For more information on connecting with the brightest in legal business services by sponsoring or attending any of LSN's networking events, contact Tracey on 0800 014 2445 or traceyp@lsn.co.uk.