Into sustainable growth? The Operational Leaders in Legal 2014 report
Tomorrow's challenges and opportunities for operational leaders in legal business
What price process?
On 26 November 2014 we polled our 100+ audience at the Operational Leaders in Legal 2014 conference using live polling devices from Lumi. The average sample size across all questions was 62 responses (median 67.5). Respondents came from a range of executive and C-level roles in law firm operations at UK top 100 and Am Law firms.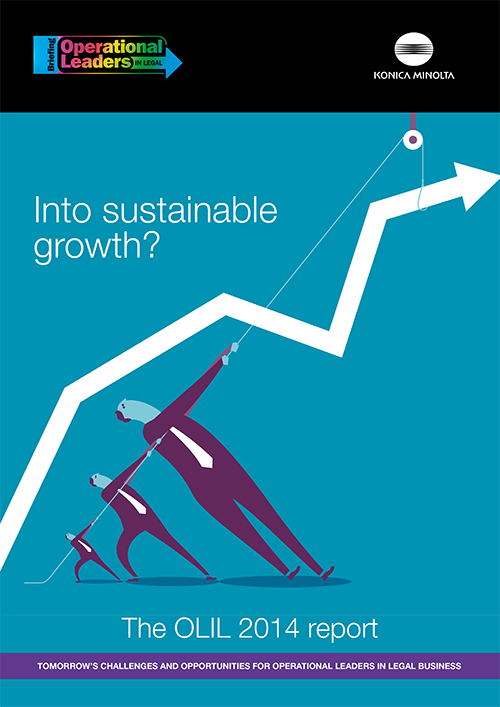 So what did we find?
Legal business is changing. It's a most intriguing feeling, sensing how all around us firms are shifting the way they deliver their work to clients, hiring different kinds of people with new skills. The business side of 'legal business' is maturing rapidly
The OLIL 2014 report shows how things are changing in the industry, and it's great to be able to ask some questions of our top-flight legal operational leaders several years in a row – as well as some new questions. Most important, was to find out what they thought clients value, now and in the near future, and how they're reacting to those drivers. Our radar charts of what operational heads think clients value about law firm services, and how that might change inside the next five years, are an extraordinarily interesting output, and this is something that will be investigated in Briefing later in 2015.
It seems operational leaders are keenly aware that the future of legal services needs to be different to how it works today.
Interesting findings from the research include:
Compared to 2013, operations leaders in legal are optimistic about their business's future
Clients want their legal services providers to work in more process-oriented ways
86% of the audience said we had not seen the end of the merger 'surge' experienced from 2009-2013
55% of firms said that between 10% and 50% of work is fixed fee
Two-thirds of top 100 operational leaders at OLIL 2014 said their firms didn't have a dedicated pricing leader, and 64% of those said their firms had no plans to hire someone to do that job
Download the PDF above to get stuck into the report, and as always, please feel free to share your views on the research in the comment section below.
Come to Briefing Operational Leaders In Legal 2015
OLIL 2015 will be held in London on 5 November 2015. Why not register your interest to attend now, to make sure you catch the early bird price? Contact John-Paul at LSN via email: johnpaul@lsn.co.uk or on 0870 112 5058.