Briefing | LSN's e-zine | Issue 2 | Business intelligence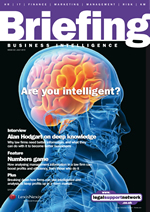 Briefing - legalsupportnetwork.co.uk's new e-zine
Covering the key business issues facing law firms, Briefing talks to everyone in business services and support about what's important to them in their careers in law firms.
What's in issue 2
Exclusive, in-depth interview with law firm strategy and profitability guru Alan Hodgart.
Feature article on how law firms are really using intelligence mining and analysis - business intelligence - to make better decisions and drive up profitability.
Analysis on how some firms are beating the recession using intelligence analysis from issue sponsor LexisNexis Redwood Analytics.
Download your copy now for FREE
Download the Briefing media pack