Briefing on finance management with Sarah Wilkinson of FFW | The recession and the growth beyond it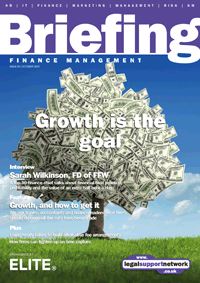 Briefing - legalsupportnetwork.co.uk's new e-zine
Covering the key business issues facing law firms, Briefing talks to everyone in business services and support about what's important to them in their careers in law firms.
Briefing on finance management in law firms
Covering how the recession has affected the UK legal sector, and featuring an exclusive interview with Sarah Wilkinson, FD at Field Fisher Waterhouse, this issue of Briefing is a must-read for finance people and anyone else interested in profitability, risk, resourcing and alternative fee arrangements.
Also covered in this finance special is how the recession has affected law firms, what law firms should be doing now to become financial wizards, how to link profitability to growth across the firm to drive growth and create value.
Plus: Patrick Hurley of issue sponsor Elite outlines why hourly billing is far from dead - in fact, it's the best way to move towards alternative fee arrangements; and Eldean Ward and Norm Mullock of IntApp reveal just how much lawyers under-record time, and what to do about it.
Download your copy now for FREE
Download the Briefing media pack